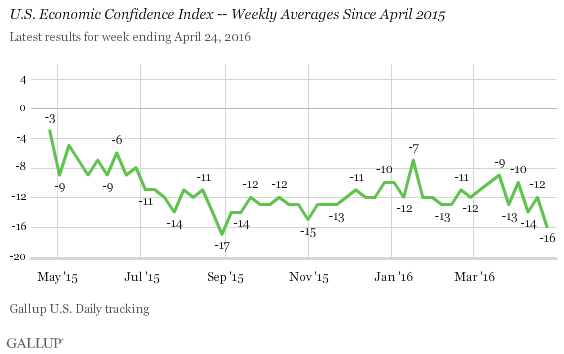 Americans' confidence in the U.S. economy has reached its lowest point so far in 2016, according to Gallup's U.S. Economic Confidence Index.
The Index averaged -16 for the week ending Apr. 24, a four point drop from the previous week and the lowest weekly average since the plunge in China's stock market in last August.
"The latest figure is not markedly lower than the -11 weekly index score average recorded so far in 2016," Gallup writes, "but it is part of a decline that started in late March."
Gallup attributes the decline to reports of weak retail sales, expectations of low first-quarter economic growth, and rising gas prices. 
"Finally, consistent statements from presidential candidates about how they would fix the U.S. economy if elected might play a part in keeping Americans' economic optimism at lower levels," Gallup argues.
Gallup calculates U.S. economic confidence by averaging how Americans rate current economic conditions and how they rate the economy's outlook – i.e., whether they feel the economy is improving or getting worse.
See the chart below for the component weekly scores.