The American Journal of Psychiatry has published an update to the earlier findings of a study purporting that gender transition surgery improved the mental health of transgender patients, quietly issuing a "correction" saying that updated evidence in fact shows no improvement at all.
So quietly, in fact, that this happened about a week ago, and has yet to make the splash that the original study made in finding that the surgery had helped.
The original study, conducted by the Yale School of Public Health and published in the journal, affirmed in 2019 that "Transgender individuals who undergo gender-affirming surgery are significantly less likely to seek mental health treatment for depression and anxiety disorders or attempt suicide in the years following the procedure."
The research, based on 10 years of individuals' medical data and claiming to be "the first analysis of the long-term effect of hormone therapy and gender-affirming surgery on transgender individuals' mental health based on a country's population," claimed that hormone replacement therapy wasn't enough to improve the mental health of transgender patients, but that gender reconstruction surgery reduced their need for treatment for depression and anxiety by 8 percent every subsequent year after.
"No longer can we say that we lack high-quality evidence of the benefits of providing gender-affirming surgeries" said  study co-author John Pachankis, who added that the study "should help inform policymakers" on public issues that could affect trans individuals, such as healthcare and the treatment of minors.
But apparently, the study had one pretty major flaw: while the researchers had looked at transgender patients before their surgery and after, they hadn't compared them to a control group of transgender patients who never underwent surgery at all – a flub pointed out by critics and other researchers. After going back and comparing that data, the study was updated to say that  there is "no advantage of surgery in relation to subsequent mood or anxiety-disorder-related health care visits or prescriptions or hospitalizations following suicide attempts" for those who undergo gender transition surgery versus those who don't.
That correction was published with little fanfare.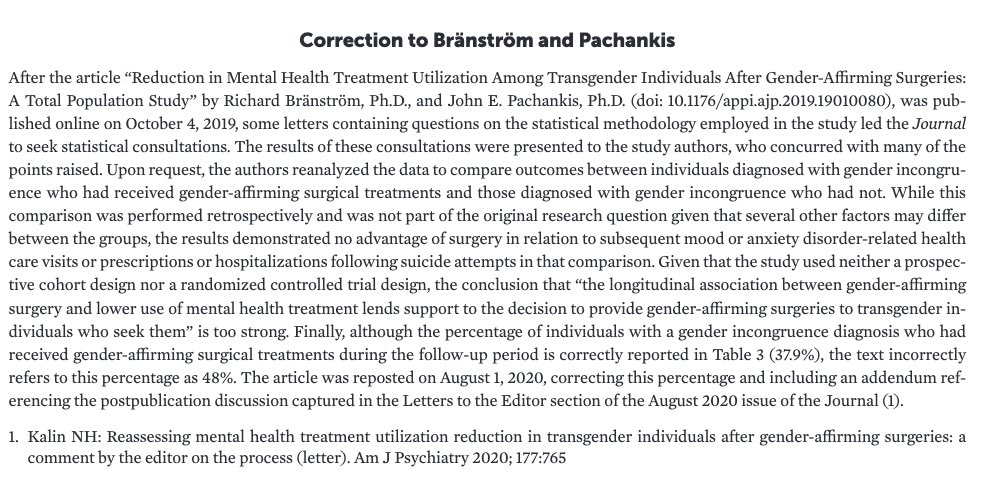 Dr. Ryan Anderson, the Heritage Foundation's William E. Simon senior research fellow in American Principles and Public Policy, told CBN News that the lack of coverage on the journal's updated correction shows a possible bias against data that doesn't prove the left's desired outcome in support of transgender surgery.
"Human error is a possibility here," Anderson said. "But there's also the possibility that there was a preferred outcome for the study. So that they wanted the study to say a certain thing. Obviously, we don't know in this particular instance whether this was just an honest mistake or if this was motivated research, motivated reasoning to lead to a certain conclusion."
"But we can say that the media didn't report on one of the main findings of the original study which was that hormonal transition showed no signs of improvement," he added. "They only reported on the original study that said surgery transition showed signs of improvement.  And now that claim has been retracted."
"The only allowed conclusion is that transition is the best solution," Anderson said. "The biggest data set now shows and that's what this study uses, the biggest data set shows that there's no benefits, psychological benefits to patients of hormonal and surgical transition."