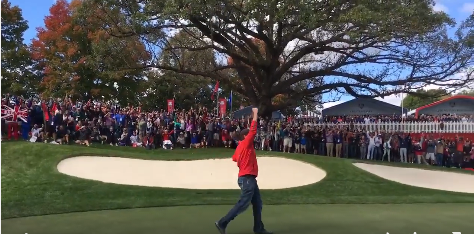 Something unbelievable happened Thursday morning at the Ryder Cup.
PGA golfers Rory McIlroy and Andy Sullivan continuously failed to sink a 12-foot putt on the sixth green during a practice round. So Henrik Stenson, another PGA golfer on Europe's winning team at the last Ryder Cup, brought out an American heckler from the crowd who claimed he could make the putt. As the rowdy spectator David Johnson walked onto the green, he couldn't believe what was happening.
"I razzed them a little bit, and they heard me, which was insane. They brought me out, which is more insane. I haven't fully realized what just happened, but overall that was a pretty cool experience, I would go ahead and do that again if I could," he said after his moment in the spotlight.
With a $100 bill placed next to Johnson's ball as he lined up for the putt of a lifetime, well, watch what happens below:
A truly incredible moment. The 2016 Ryder Cup officially begins Friday, Sept. 30.