Amazon, Google and Apple are one and the same with the U.S. government at this point. There is literally no difference between the amount of control and power those monopolistic corporations want and the power and control that too many members of our government have had at their disposal — and unconstitutionally taken advantage of — for so many years. They want to tell you how to live your lives and what you can and/or cannot say or do. Period.
In a move eliminate competition and stifle free speech, Amazon Web Services (AWS) shut down free speech social media platform Parler very early Monday morning. The move has been propagandized as necessary because of the events at the Capitol in Washington D.C. last Wednesday.
In an email, Amazon said its decision was based on "violent content," which violates its terms of service.
Here's part of the Amazon statement:, according to CNBC:
AWS provides technology and services to customers across the political spectrum, and we continue to respect Parler's right to determine for itself what content it will allow on its site. However, we cannot provide services to a customer that is unable to effectively identify and remove content that encourages or incites violence against others. Because Parler cannot comply with our terms of service and poses a very real risk to public safety, we plan to suspend Parler's account effective Sunday, January 10th, at 11:59PM PST.
Google and Apple preceded Amazon's move by dropping the Parler application from their app stores.
No word on whether Google and Apple will drop Twitter and Facebook as well considering "activists" have used both of those platforms to "organize" their own violence against those that disagree with them. That is "domestic terrorism" itself, but shh! We're not supposed to talk about that.
Parler Founder and CEO John Matze said in a Monday statement that they could "be down longer than expected."
"We will likely be down longer than expected," Matze said. "This is not due to software restrictions — we have our software and everyone's data ready to go. Rather it's that Amazon's, Google's and Apple's statements to the press about dropping our access has caused most of our other vendors to drop their support for us as well."
Basically, Amazon, Google and Apple have restricted Parler's ability to exist because of the unelected power they wield.
One journalist who has covered protests, riots and looting more than pretty much any other is The Blaze's Elijah Schaffer. He too was banned from Facebook and Instagram for reporting what was happening at the Capitol. Only Big Tech-approved video and pictures from the establishment media are allowed on those sites now.
Here's Schaffer's take on Twitter's alleged complicity in the "mostly peaceful protest" violence that occurred during the summer months of 2020 no matter how many want to turn a blind eye to it: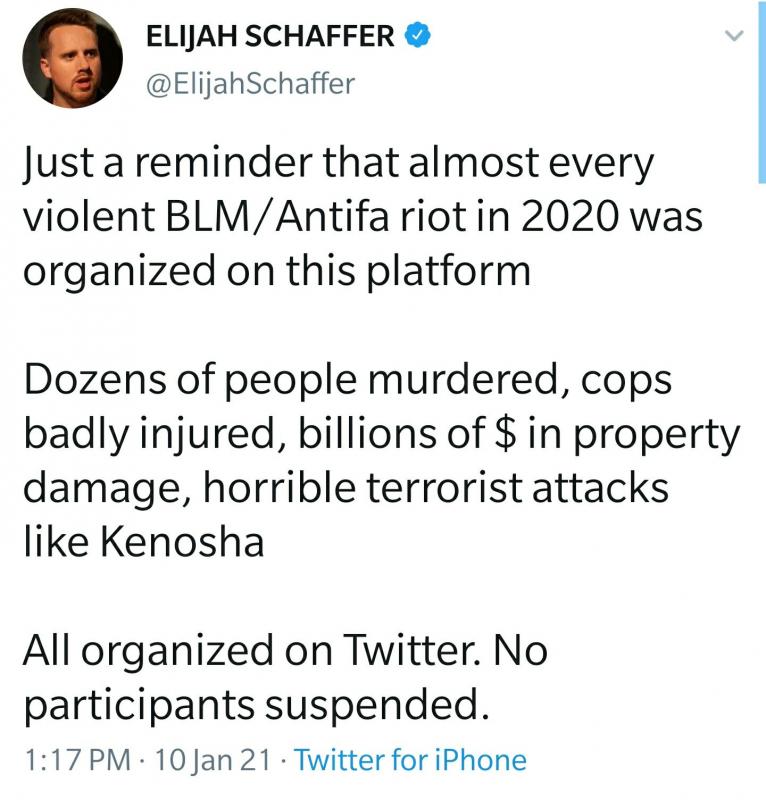 It's way past time to remember an American society — you don't have to go back terribly far — where everyone didn't rely on these Big Tech oligarchs for permission to do…well, pretty much anything.
I agree that there should be a mass purge….of companies like Amazon, Google and Apple.