Well, that was racist!
Washed-up actress Alyssa Milano took to Twitter Tuesday evening to display her hatred of the National Rifle Association (NRA). I know, right?! This comes as a complete shocker to me as well.
Okay. No. No, it doesn't.
Before I get into why Milano is a moron, here's the tweet in question: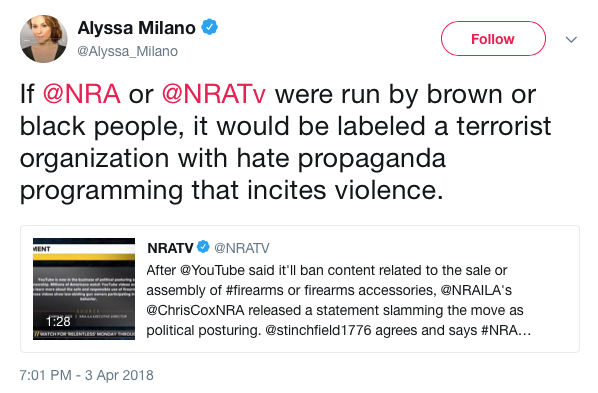 Is she saying that "brown" and "black people" comprise most terrorist organizations? That's kinda racist. Obviously though, she means that the all white government — which it's clearly not — would only make that designation if the NRA "were run by brown or black people."
Milano must seriously think that there are no "brown or black" members of the NRA. Is she implying that the NRA is a white supremacist group?
I'm just attempting to put a rational behind her statement, because something this idiotic is comically worthy of dissection.
The NRA doesn't keep statistics based on race, because a gun owner is a gun owner, regardless of their racial makeup. The NRA website does say that it has "nearly five million members." But, membership has most likely gone up since the assault on the Second Amendment has gained national attention.
Maybe she's calling the NRA a "terrorist organization." However, we don't hear many crazy murderers claiming that they carried out their acts in the name of the NRA. Oh, wait. That's actual terrorist organizations.
Regardless of her actual meaning, Milano didn't receive too many warm and flowery responses from the "Twitterverse":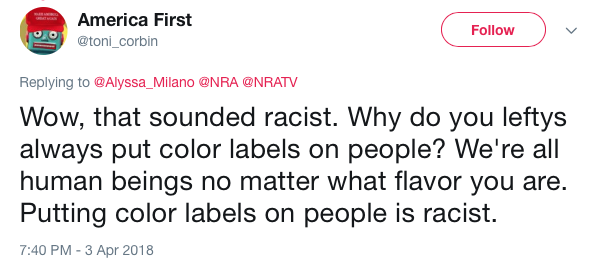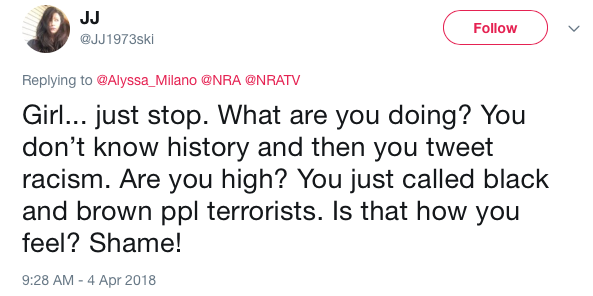 Just another example of the Hollywood cult — and their Leftist mentality — saying the dumbest crap possible in order to feed their own self-righteous egos.
Stick to your day job.

(Cover Photo: Tom Sorensen)