It seems Rosie O'Donnell isn't the only self-unaware liberal who can't comprehend why some people don't like the political left. Now, actress and liberal propaganda peddler Alyssa Milano is blaming Green Party votes in Ohio's special election Tuesday on Russian meddling – because for her, it's just not possible for Democrats to have simply failed to secure votes any other way.
Republican Troy Balderson prevailed over Democrat Danny O'Connor for Ohio's 12th District congressional seat 1,754 votes
But it turns out a whole 1,127 Ohio voters threw their support behind Green Party candidate Joe Manchik, who, by his own admission, thinks he's descended from aliens, claims he speaks 19 languages including "sheet music," and has a not-all-all-surprising obsession with hemp.
According to Milano, the only possible explanation is that Russians made them do it – because why else wouldn't people vote for Democrats?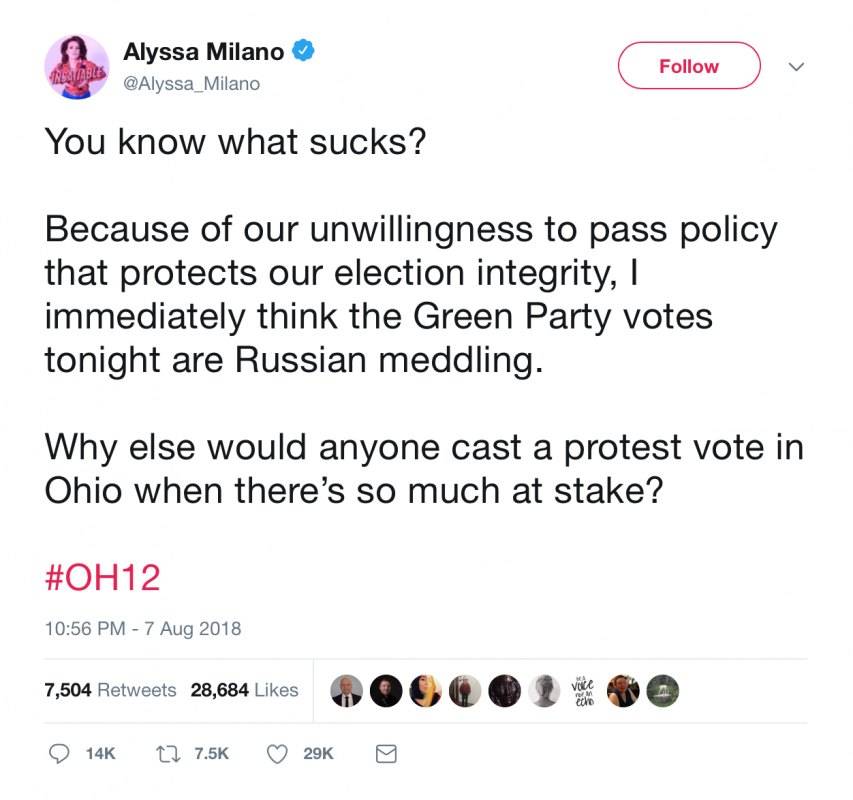 Of course, as MRCTV's Patrick Hauf points out, if the vote tallies are accurate (and an automatic recount is underway), O'Connor wouldn't have beaten Balderson even if he'd gotten every single one of Manchik the alien's 1,127 votes. Maybe Russians are meddling with basic addition, as well?
(Cover Photo: Tom Sorensen)