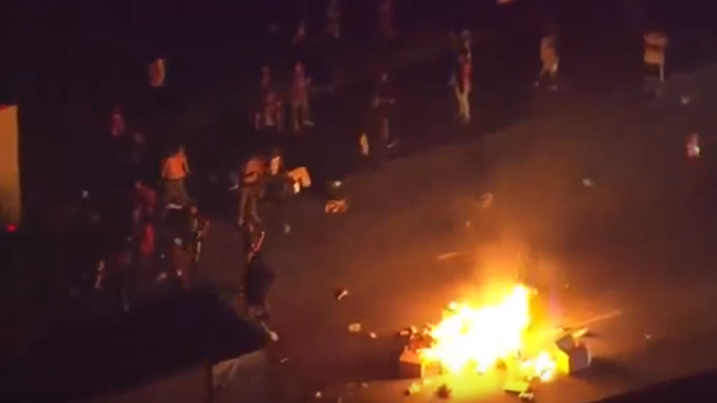 A night of violent riots kicked off last night in Charlotte, N.C., after a black man was shot dead by police officers, prompting a rash of "protests" and an immediate firestorm on social media from those on both sides of the now-infamous Black Lives Matter debate.
According to eyewitnesses, a black police officer shot 43-year-old Keith Lamont Scott, a black man, with a handgun after repeatedly telling Scott to drop his weapon. When Scott did not comply, the officer deemed him a threat and proceeded to shoot him in the chest. Scott was pronounced dead at the hospital after officers tried to administer CPR to him at the scene.
That should be enough information for people, at least until an investigation is completed. But in today's America facts come second to feelings, so of course there is more to the story.
According to Fox News and Charlotte Police Chief Kerr Putney:
Charlotte police warned 43-year-old Keith Lamont Scott again and again to drop his handgun before an officer shot and killed him, the police chief announced Wednesday morning, after riots damaged patrol cars and injured at least 16 officers.

Police Chief Kerr Putney said during a news conference that officers were searching for a suspect Tuesday when they saw Scott exit a vehicle with a handgun at an apartment complex on the city's northeast side. "The officers gave loud, clear verbal commands which were also heard by many of the witnesses. They were instructing the subject, once he got out of the vehicle, to drop the weapon... Mr. Scott exited his vehicle armed with a handgun as the officers continued to yell at him to drop it."

Putney said an Officer Brentley Vinson shot Scott because the man posed a threat. Vinson is black, as was Scott.
Vinson was not wearing a body camera, although Putney noted other officers at the scene did have cameras on.
It is sad that we have to constantly give details as to not only the race of the suspect, but the race of the officer too.
And why wouldn't there be riots and looting? Undesirables of any race or ethnicity will jump at the chance to get free stuff and destroy property. Chaos and anarchy know no racial divide. The sad part is that the people who cause the destruction of their own neighborhoods then complain that their town was burned down.
Of course, the police officers ultimately bore the brunt of the mayhem, with 16 officers injured during the riots. Officers were pelted with everything from bottles to rocks. One police car was vandalized. Five miles from the scene, a Walmart had to barricade its doors with wooden pallets because of excessive looting.
These series of events have become less about white versus black and more about blacks versus cops.
As a result of the shooting, dozens of rioters -- I refuse to call them protesters when they are destroying property -- overran Interstate 85. They looted semi-trucks that probably weren't even from Charlotte, and then went on to set the contents of the trucks on fire.
All this came hours after video was released of another police shooting in Tulsa, where a black man who reportedly had his hands up was shot by a female police officer.
Fox News also reported:
Some protesters were heard yelling "Black lives matter," and "Hands up, don't shoot!" One person held up a sign saying "Stop Killing Us."
In the Charlotte case, "Hands up, don't shoot!" does not apply, and yelling "Black lives matter" and "Stop killing us" should probably be done in the mirror.
Of course, Scott's family says that all he was doing was reading a book in his car. The media always like to paint these suspects as saintly, if they can, in clear cases where the person and the details dictate that they were anything but. And the same outlets will likely ignore the disproportionate rate of black-on-black crime that leads to far more black deaths than those that occur at the hands of police.
As Breitbart reported last November:
It would take cops 40 years to kill as many black men as have died at the hands of others black men in 2012 alone.

University of Toledo criminologist Dr. Richard R. Johnson examined the latest crime data from the FBI's Supplementary Homicide Reports and Centers for Disease Control and found that an average of 4,472 black men were killed by other black men annually between Jan. 1, 2009, and Dec. 31, 2012.

Professor Johnson's research further concluded that 112 black men died from both justified and unjustified police-involved killings annually during this same period.
President Obama always tell people to "wait for the facts to come out" when it comes to radical Islamic terror, but he never says anything similar to that when one of these shootings happen.
Protests are all well and good under the Constitution, but when people begin getting hurt and public places trashed, it might be time to repopulate our prison system.