New York congressional candidate Alexandria Ocasio-Cortez is catching some major flak for comparing Daily Wire Editor-in-Chief Ben Shapiro's request for a debate to "catcalling."
Shapiro had previously offered the Democratic socialist $10,000 toward her campaign or raise money for charity if she agreed to publicly debate him. 
 
Hey, @Ocasio2018, what do you say? pic.twitter.com/lKDtmMc8Us

— Ben Shapiro (@benshapiro) August 8, 2018

After a couple days of silence, Ocasio-Cortez ultimately spurned Shapiro's offer late Thursday by saying she "[doesn't] owe a response to unsolicited requests from men with bad intentions."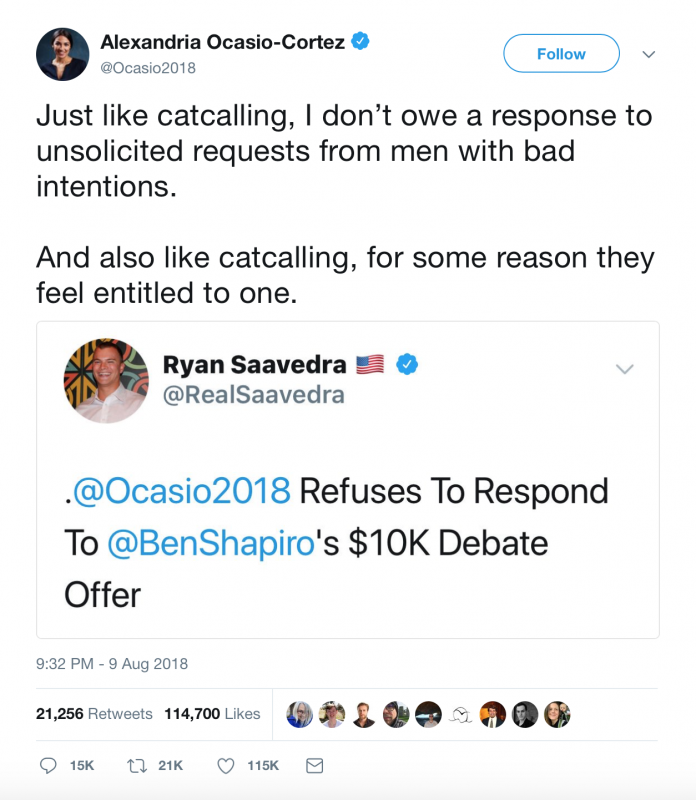 The response fired off a slew of criticism from those on the right and even some on the left, all of whom were quick to point out that an offer for a political debate isn't "catcalling."
You know what's bad faith? Accusing conservatives of not wanting to debate you, then pretending @benshapiro sexually whistled at you... because he asked you to debate.

FYI my team has also asked you multiple times to come on my show & debate. And you won't. https://t.co/kTh7v4x64y

— Liz Wheeler (@Liz_Wheeler) August 10, 2018
Crying sexism in order to avoid a debate of ideas is not a feminism I want any part of.

— Erielle Davidson (@politicalelle) August 10, 2018
Intersectionality means you don't have to engage ideas. https://t.co/glktwHIsO1

— Sohrab Ahmari (@SohrabAhmari) August 10, 2018
What bad intentions? A serious discussion that raises money for charity? This is just embarrassing. https://t.co/EfYdiDWSLm

— John Podhoretz (@jpodhoretz) August 10, 2018
@Ocasio2018 "Republicans are scared of me".@benshapiro "Let's have a debate on the issues".@Ocasio2018 "......crickets....."@Ocasio2018 "This is like sexual harassment"

— Billy Cullip (@Billystar19) August 10, 2018
While Ocasio-Cortez may have enjoyed a string of national interviews since her primary victory over 10-term Democratic incumbent Joe Crowley in July (a win she credited largely to his refusal to debate her), her resistance to a public debate over her ideas strongly suggests Democratic socialism only holds up inside its own echo chamber.