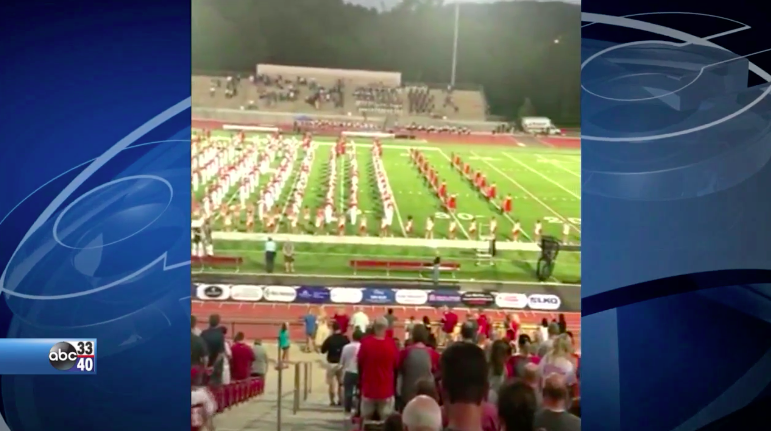 Image via Screenshot
A school district east of Birmingham, Ala., has been told to stop the practice of public prayer before football games.
The Hewitt-Trussville City School District was recently accused by atheist activist group Freedom from Religion Foundation (FFRF) of violating the First Amendment by broadcasting prayers before games and has been asked to stop the practice immediately.
The complaint reportedly came from a parent after a student athlete led a prayer over a loudspeaker before a Hewitt-Trussville High School football game. 
"The Wisconsin-based nonprofit organization claims it was contacted by a concerned parent, and cites several Supreme Court cases, dating as far back as 1962, that find religious practices at on-campus, public school functions unconstitutional -- even if led by a student," reports ABC 33/40.
"The FFRF says public school events must be secular to protect the freedom of conscience of all students -- even in Trussville, a small town with an overwhelmingly Christian population."
Whether the school district plans to ban public prayer before football games remains to be seen, as the Hewitt-Trussville City Schools Superintendent, Dr. Pattie Neil, is out of town until next week, ABC 33/40 reports.
This is certainly not the first assault on prayer at high school football games, even when the prayers have been led by students themselves and not school faculty or staff.
In September, student-led prayer broadcast over a loudspeaker was banned in the Alabama school district of Lee County Schools after FFRF issued a similar complaint.
Students were forced to lead a silent prayer on the sidelines before their games. 
Thank you for supporting MRCTV! As a tax-deductible, charitable organization, we rely on the support of our readers to keep us running! Keep MRCTV going with your gift here!