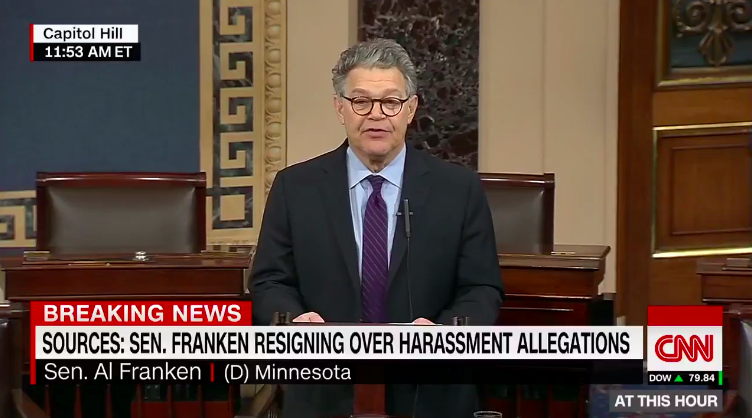 Image via Screenshot
A day after 32 of his Democratic colleagues in the Senate called for him to resign amid multiple sexual harassment claims, Al Franken announced on Thursday that he will step down in the coming weeks.
"In the coming weeks, I will be resigning as a member of the United States Senate," said the Minnesota senator.
His announcement comes after eight women came forward accusing Franken of either groping them or forcibly trying to kiss them.
Franken did not apologize to his accusers during his remarks on the Senate floor. He said he "wanted to be respectful" because "all women deserve to be heard." However, he said he remembered some of the women's accusations differently and knows "who I really am."
In a bold statement, Franken said that he knows he did "nothing" to bring "dishonor" to the Senate.
"I know in my heart that nothing I have done as a senator – nothing – has brought dishonor on this institution," he said, "and I am confident that the Ethics Committee will agree."
Franken said that "even today on the worst day of my political life, I feel like it's all been worth it."
"I did not grow up wanting to be a politician," he said. "I came to this relatively late in life. I had to learn a lot on the fly. It wasn't easy and it wasn't always fun. I'm not just talking about today. This is a hard thing to do with your life."
"There will be days when you will wonder whether it's worth it," he continued. "Even today, even on the worst day of my political life, I feel like it's all been worth it."
He brought up sexual misconduct claims against President Trump and called for Alabama Senate candidate Roy Moore to step aside, saying it's ironic that he is leaving Washington at this time.
"I of all people am aware that there is some irony in the fact that I am leaving while a man who has bragged on tape about his history of sexual assault sits in the Oval Office, and a man who repeatedly prays on young girls who campaigns for the Senate with full support of his party," said Franken. "But this decision is not about me. It's about the people of Minnesota. It's become clear that I can't both pursue the Ethics Committee process and remain an effective senator for them."
Franken noted that although he is leaving the Senate, he will not be leaving politics altogether.  
"Let me be clear. I may be resigning my seat, but I am not giving up my voice," he said. "I will continue to stand up for the things I believe in as a citizen and as an activist. Minnesotans deserve a senator who can focus with all her energy on addressing the challenges they face every day."
"For a decade now, every time I would get tired or discouraged or frustrated, I would think about the people I was doing this for," Franken went on. "I hope you know that I will be fighting alongside you every step of the way."
Thank you for supporting MRTV! As a tax-deductible, charitable organization, we rely on the support of our readers to keep us running! Keep MRCTV going with your gift here!
MRCTV Reader,
The liberal media are terrified of the truth, especially when it leads to uncomfortable questions about their own leftist worldview.
MRCTV is the multimedia division of MRC featuring original content and aggregated videos of the news, people, and events conservatives care about.
MRCTV relies on the support of our loyal readers (and video viewers) to keep providing the news and commentary that matter to the American people, not just stories that prop up the liberal agenda.
Make a donation today. Just $15 a month would make a tremendous impact and enable us to keeping shining the light where the liberal media are afraid to tread.
— The MRCTV Team
DONATE
Connect
Sign up for our MRCTV newsletter to receive the latest news.
Sponsored Links