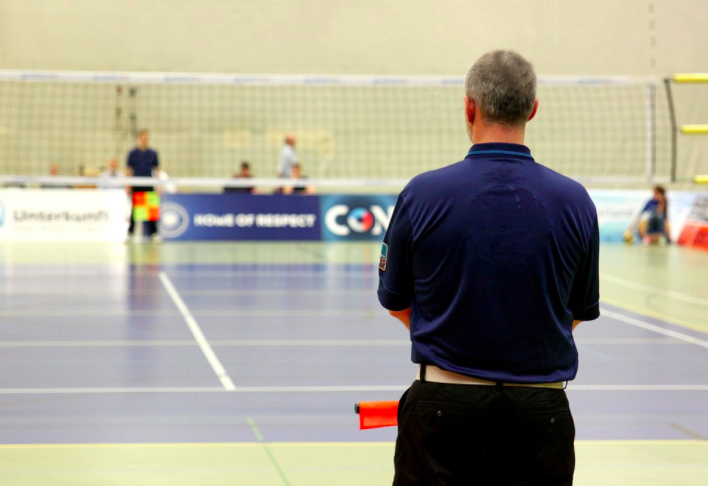 An Air Force One veteran turned Indiana high school referee was slammed with an 18-month suspension for choosing to walk out of a game he was refereeing after he saw an athlete kneeling during the National Anthem.
Jim Saddler, 67, said he couldn't help himself when he saw a volleyball player taking a knee during the "Star Spangled Banner."
He said that he was barely able to contain his anger when he saw fans "sitting on their butts" during the anthem, but seeing an athlete kneeling was what pushed him over the edge.
"What they did just upset me so badly that I just could not stay there," Saddler told IndyStar.
He added that, in hindsight, he regrets the decision, because as a military veteran, he knew that he had a duty as a referee and did not live up to his commitment.
"In the Air Force, you have a duty, and you do it," Saddler, a retired Presidential Flight Attendant on Air Force One, said. "The same with sporting events. I guess I went AWOL. I feel bad about it."
He also said that, after much thought, it was the athlete's "constitutional right to do what she wants to do," regardless if it offended or upset him.
"(But) I know it's her constitutional right to do what she wants to do," said Saddler. "And it wasn't fair to the other girls who were standing and respecting the flag. After I thought about it, you know, sometimes it takes you a little time to sit down and think about stuff and what you did. And after I thought about it, I would never ever do that again. I would never break a contract."
A few days after the incident, Saddler received a letter from the Indiana High School Athletic Association (IHSAA) suspending his license for the rest of this school year and until winter sports begin next year.
He said he expected to be reprimanded or maybe suspended for a couple games, but getting suspended for a year-and-a-half seemed excessive to him.
Saddler told IndyStar that he's never been in trouble with the IHSAA before and considers himself a well-respected official in Indiana, an account the North Central Athletic Director Paul Loggan confirmed as true:
"He's a very well-respected official and man," said Loggan. "He's been a volleyball official here and a softball official here, and we've never had any issues with him."
Saddler petitioned the IHSAA commissioner, explaining why he did what he did and promising never to do anything like it again.
"But it fell on deaf ears," he said.
"I don't think the IHSAA (cared) about what I said or what I did or that I said I wouldn't do it again," Saddler said. "Here I am a retired veteran, you have to see my point of view of what I did. Right?"
His suspension stands because, according to the IHSAA, his license is "a privilege and not a right" and he violated his contract.  
Thank you for supporting MRCTV! As a tax-deductible, charitable organization, we rely on the support of our readers to keep us running! Keep MRCTV going with your gift here!