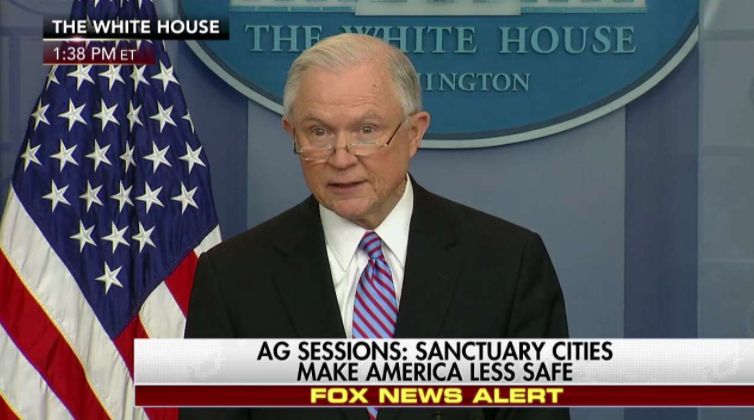 (Image via Twitter)
Attorney General Jeff Sessions during Monday's White House press briefing called for an end to the policy of sanctuary cities that "frustrates" the enforcement of federal immigration laws.
He said that not only does local and state jurisdictions' refusal to detain illegal aliens at the request of federal immigration authorities put "whole communities at risk," but it also violates federal law.
"The charges and convictions against these aliens include drug trafficking, hit-and-run, rape, sex offenses against a child, and even murder," said Sessions. "Such policies cannot continue. They make our nation less safe by putting dangerous criminals back on the streets."
"Failure to deport aliens who are convicted of criminal offenses puts whole communities at risk," he said, "especially immigrant communities and the very sanctuary jurisdictions that seek to protect the perpetrators."
"Countless Americans would be alive today ... if these policies of sanctuary cities were ended," said Sessions.
The attorney general cited President Trump's executive order that threatens to withhold federal funding from sanctuary cities and 8 U.S.C. Section 1373 that states "no local law, no person or agency may prohibit, or in any way restrict, a Federal, State, or local government entity" from exchanging information "regarding the immigration status, lawful or unlawful, or any individual."  
The attorney general said that failure to comply with the President's executive order and Section 1373 would result in sanctuary cities not being eligible to receive certain federal "awards," including Office of Justice Programs (OJP) grants.
"Disregard for law must end," he said. "Today, I'm urging states and local jurisdictions to comply with these federal laws."
He warned, "Failure to remedy violations could result in withholding grants, termination of grants, and disbarment or ineligibility for future grants."
"The Department of Justice will also take all lawful steps to claw back any funds awarded to a jurisdiction that willfully violates Section 1373."
Sessions' announcement follows the release of a recent ICE report naming the state and local jurisdictions that have refused to honor immigration detainers.
The ICE report shows that in one week, officers discovered 206 instances of declined detainers in which criminal aliens were released – including 51 charged or convicted of assault, 40 for DUI, 30 for domestic violence, 19 for robbery, burglary, or grand theft auto, 17 for drugs, and 14 for rape, sexual assault, or other sex offenses, the Center for Immigration Studies reports.
Watch a brief clip from Sessions' remarks below.
Thank you for supporting MRCTV! As a tax-deductible, charitable organization, we rely on the support of our readers to keep us running! Keep MRCTV going with your gift here!