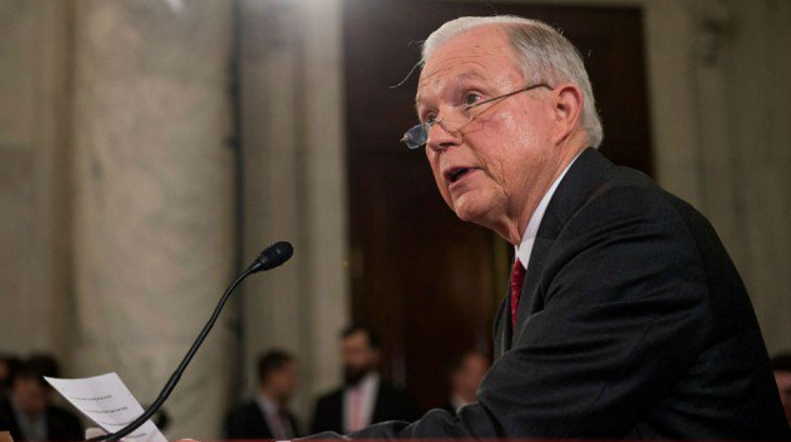 Attorney General Jeff Sessions testified before the Senate Intelligence Committee on Tuesday, just a week after fired FBI director James Comey's dramatic testimony about his interactions with President Trump.
During his opening statement, Sessions addressed the committee's concerns about his contacts with Russian officials during his involvement in President Trump's campaign, as well as new reports of an alleged third, undisclosed meeting with a Russian diplomat. 
Sessions called the allegations of collusion "false," "appalling," and "detestable." He explained that when he said he did not have any contacts with Russian officials during his confirmation testimony, he meant it in the context of the allegations of collusion, not in the context of routine meetings with foreign officials.
"The suggestion that I was aware of any collusion with the Russian government to hurt this country, which I have served with honor for 35 years, or to undermine the integrity of our democratic process is an appalling and detestable lie," said Sessions. 
"This is what happened: Sen. Franken asked me a rambling question after some six hours of testimony that included dramatic, new allegations that the United States intelligence community … had advised President-elect Trump, quote, that there was a continuing exchange of information during the campaign between Trump's surrogates and intermediaries with the Russian government. I was taken aback by that explosive allegation, which he said was being reported as breaking news that very day, in which I had not heard.
"I wanted to refute that immediately, any suggestion that I was part of such an activity," he continued. "I replied, quote … Senator Franken, I'm not aware of any of those activities. I have been called a surrogate a time or two in that campaign and I did not have communications with the Russians and I am unable to comment on it.
"In that context, my answer was a fair and correct response to the charge as I understood it. I was responding to this allegation… It simply did not occur to me to go further than the context of the question and to list any conversations that I may have had with Russians in routine situations as I had many routine meetings with other foreign officials."
The top law enforcement official in the country said that when the question was posed to one of his spokespeople whether he had any contact with Russian officials at all, that was the first time the question had been posed to him "squarely." He then rectified the account by disclosing two meetings with Russian ambassador Sergey Kislyak – the first at the Republican National Convention and the second in his Senate office in September 2016.
He stated that there was "certainly nothing improper" that occurred in either meeting. 
He said that on neither occasion, or ever, did he have "any conversation with any Russians or any foreign officials concerning any type of interference with any campaign or election in the United States."
"I have never met with or had any conversation with any Russians or any foreign officials concerning any type of interference with any campaign or election in the United States," he said.
"Further I have no knowledge of any such conversations with anyone connected to the Trump campaign," Sessions added.
In response to reports of an undisclosed third meeting with a Russian official at an event at the Mayflower Hotel in April 2016, Sessions said he had "no recollection" of any meeting, passing or private interaction with any Russians. 
Watch the hearing live below.
Thank you for supporting MRCTV! As a tax-deductible, charitable organization, we rely on the support of our readers to keep us running! Keep MRCTV going with your gift here!