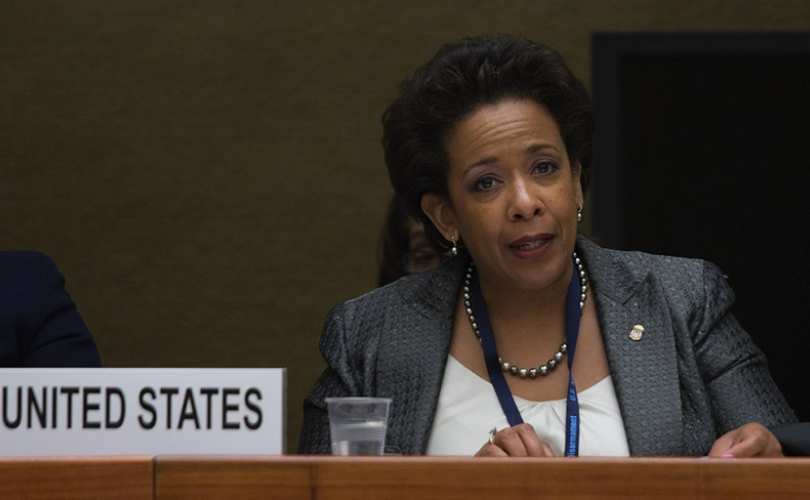 U.S. Attorney General Loretta Lynch was the featured speaker at the University of Pennsylvania (PENN) School of Law commencement ceremony on Monday.
At certain moments during her remarks, Lynch said some things that would make any conservative scratch their head and think, "Well, if that isn't the pot calling the kettle black..."
Lynch's had two main focuses in her speech -- one asking the question, "Can you hold justice in your hands?" Her other focus was the motto of Penn Law School, taken from a Latin quotation from Horace: "Laws without morals are in vain."
Morals like last Thursday's edict disguised as "guidelines" from the Education and Justice Departments that any child may use any bathroom they so choose?
The question remains, can you hold justice in your hands? Of course, the real answer is no, unless someone took physical action against a person that did them wrong. No one, not even Lynch, can take justice into their own hands without adhering to the rule of law.
"My wish for you, my charge to you, is that you do not just practice law but that you find a way to hold justice in your hands," said Lynch.
Lynch speaks as if justice and the law should be two different things. She also speaks as if justice is something that should be manipulated by an agenda set by whomever is arguing the case. In essence, as long as you believe what you are doing is right, then justice will be served.
But what if that person's brand of justice is something that the majority believes is immoral?
Just be careful what you say around Lynch, because as she laughingly added during her speech, "When it comes to revealing sources, I do have the ultimate subpoena power. I will find out."
For clips from Lynch's speech, watch below:
To watch the full speech, watch below: