Every once in a while, a Hollywood star comes along and does something really special.  In this case, Maroon 5 frontman Adam Levine gave the experience of a lifetime to a child with down syndrome. 

According to Yahoo News: 
Maroon 5 frontman Adam Levine helped make a 10-year-old superfan's dreams come true on Monday night.

Christopher Warner, a young Maryland resident with Down syndrome and Levine's self-proclaimed number one fan, got the surprise of his life when his favorite musicians reached out to invite him to a live show.

"He has just been fascinated with Maroon 5 and especially Adam Levine," Avery Stanert, a special education teacher at Warner's school, told TODAY.com. "He loves to listen to their music during work breaks. He draws pictures of them. He just absolutely loves them."

But what happened after they met is what will really pull on the heart strings... 
Warner, his mother and several school teachers were given VIP access to Maroon 5's concert at the Verizon Center in Washington, D.C., where Warner finally came face-to-face with his longtime idol.

Upon meeting Levine, the young boy panicked and crouched down on the floor in an effort to hide. But that didn't startle Levine at all, who suggested that everyone follow suit and lay right down beside him.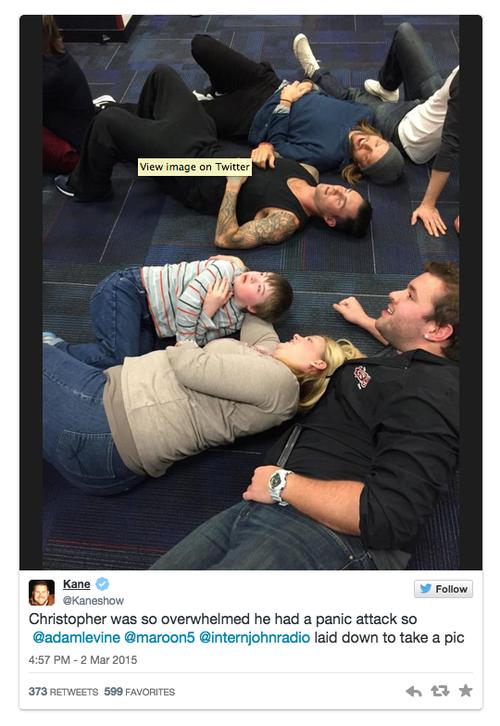 Just fantastic.... 
MRCTV Reader,
The liberal media are terrified of the truth, especially when it leads to uncomfortable questions about their own leftist worldview.
MRCTV is the multimedia division of MRC featuring original content and aggregated videos of the news, people, and events conservatives care about.
MRCTV relies on the support of our loyal readers (and video viewers) to keep providing the news and commentary that matter to the American people, not just stories that prop up the liberal agenda.
Make a donation today. Just $15 a month would make a tremendous impact and enable us to keeping shining the light where the liberal media are afraid to tread.
— The MRCTV Team
DONATE
Connect
Sign up for our MRCTV newsletter to receive the latest news.
Sponsored Links