Add another name to the list of celebrities possibly running for political office. The only difference is that this celebrity looks like she's actually going through with it.
Former Fox News contributor and actress Stacey Dash has reportedly filed campaign documents with the Federal Election Committee (FEC) to run for California's 44th Congressional District as a Republican. Dash's slogan for her upcoming run - according to the documents - is "Dash to DC." 
The House seat is currently occupied by Rep. Nanette Barragan (D-Calif.).
According to The Hill:
The congressional district contains the cities of Compton, Watts, San Pedro and North Long Beach, and has been represented by a Democrat since the 2012 election. 

The district overwhelmingly voted for Democratic candidate Hillary Clinton in the 2016 presidential race.

Dash earlier this month hinted that she was mulling a congressional campaign, and took to Twitter to seek feedback from her followers.
Here's the tweet: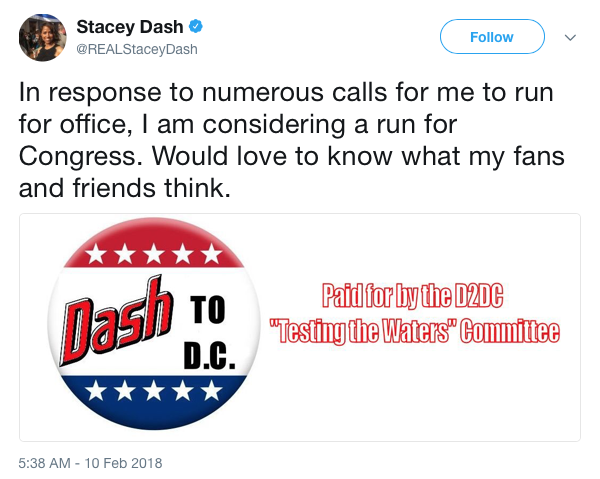 Dash was a Democrat up until 2012 when she realized that she didn't like the direction the country was going in the aftermath of the 2008 election of former president Barack Obama — who she voted for.
"I had been thinking about it for the four years after I voted for Obama," Dash told People in 2014. "I really started paying attention to politics and how it directly relates to my everyday life. I realized that I wasn't happy with what was going on so in 2012 I wanted it to go in a different direction. I realized that I am a Republican. First of all I am a capitalist, but second of all I am a Republican."
Dash's contract with Fox News wasn't renewed after the actress cursed on air while referencing then-president Obama's demeanor in December 2015. 
"I didn't feel any passion from him," she said. "I feel like he could give a sh*t, excuse me, he could care less."