Actress Debra Messing has deleted a tweet in which she openly wished for President Donald Trump to be sexually assaulted by other men in prison - but the internet never forgets.
The "Will and Grace" star doubled down on an earlier tweet, where she called for Trump to be imprisoned and hoped he's " the most popular boyfriend to all inmates."
"@realDonaldTrump you are a weak, scared, stupid, inept, negligent, vindictive, narcissistic, criminal," Messing wrote. "I hope you live a long life in prison where you become the most popular boyfriend to ... all inmates."
After sparking backlash for the tweet, Messing followed it up with another, even more vile one, saying she hopes Trump is the "victim" of rapists.
"Let me be clear: I said nothing about LGBTQI/queer LOVE," Messing responded. "Rape is an act of violence. Trump has perpetrated violence on hundreds of millions of people. My hope is (and this is the first time in my life) that the tables are turned and he is the victim of perpetrators. #LGBTQIAally"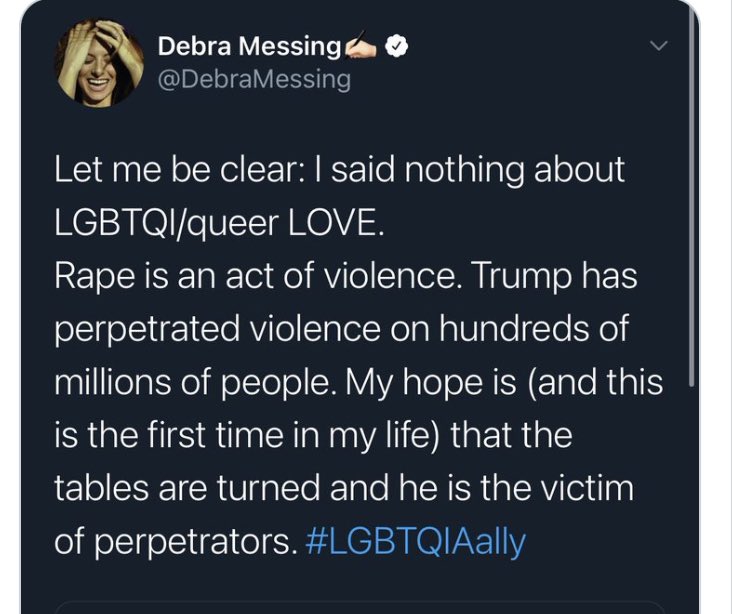 The second tweet has since been deleted, but not before it earned Messing an avalanche of anger and mockery on social media.
 
I've been in this situation at dinner parties where everyone just stares at you blankly after you're like, "Oh no no no you misunderstood me. I was just saying, I think he needs to be violently prison raped. Is that better?" https://t.co/3KQbOkcSgW

— Robby Slowik (@RobbySlowik) December 14, 2020
her clarification: "let me be clear, I hope Trump is raped in prison"

this is DISGUSTING. might be the most heinous thing i've seen on twitter. prison rape is a huge problem, not an issue to be taken lightly or wished upon a political enemy https://t.co/18i0qZXE9H

— Jessica O'Donnell (@heckyessica) December 14, 2020
Without question one of the most vile people on this site https://t.co/qsIMFPHHst

— Eoin Higgins (@EoinHiggins_) December 14, 2020
I'm a gay man who was infected with HIV from rape.

If your mind and soul are this small, hateful and petty, you have no place to pretend you are a good person.

Exploiting this trauma to perpetuate your insane, irrational hallucinations and profound ignorance is offensive. https://t.co/sM8tRK9o0Z

— Chad Felix Greene (@chadfelixg) December 14, 2020

Messing eventually apologized for the tweet – but only because it offended some of her LGBTQ fans, who accused her of using homosexuality to insult president.
 
I'd like to say I have been an LGBTQIA ally for decades, and I was in no way referencing LGBTQI/queer love/sexuality. It is not my proudest moment, but 45 has victimized 100s of millions of ppl; I had wished the tables turned on him. I apologize for the offensive way I did it. https://t.co/Q6SLIo9DWc

— Debra Messing✍🏻 (@DebraMessing) December 14, 2020

Because that's what matters here.