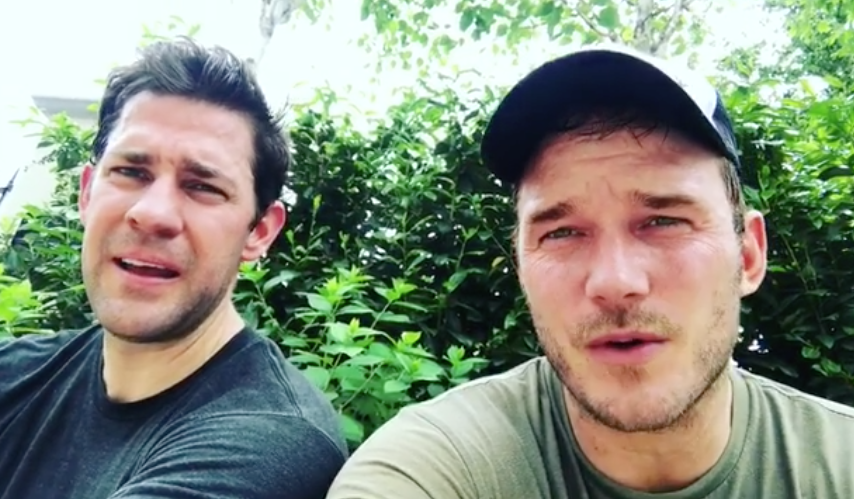 (Image: Screenshot/Instagram - @prattprattpratt)
While I personally witnessed tons of people on Facebook taking time out from their Memorial Day barbecues to bash anything Trump and/or Republican, two big-time Hollywood actors, who weren't even in the country, spent their day honoring the reason all the haters had the day off.
"Guardians of the Galaxy" star Chris Pratt and "13 Hours" actor John Krasinski decided that since they weren't in the U.S. to commemorate those that gave their lives in order to preserve the everyday things that people take for granted, they would take part in a recent tradition as a tribute to fallen soldiers.
Pratt and Krasinski took on the #MurphChallenge on Memorial Day as their way of saying thank you to those who've sacrificed their lives for our country.
"It's a day like today when we commemorate those fallen heroes and say thanks for all you do to make our dreams come true," Pratt pointed out.
According to People:
Each Memorial Day, gyms across the country perform the workout — a one-mile run, 100 pull-ups, 200 push-ups, 300 air squats and a final one-mile run while wearing a 20-lb. body vest. The challenge raises money and awareness for the LT. Michael P. Murphy Memorial Scholarship Foundation.

"The 'MURPH' is more than just a workout, it is a tradition that helps push us, humble us, and dedicate a bit of pain and sweat to honor a man who gave everything he had," according the foundation's website.
"Murph" refers to late U.S. Navy SEAL officer Lt. Michael P. Murphy who lost his life in an intense battle during the War in Afghanistan. Murphy was awarded the Medal of Honor for his actions during the war. It is the highest military commendation that one can receive for their service.
Both Pratt and Krasinski posted about their Memorial Day tribute workout on Instagram:


"So today, whether you do a Murph Challenge or just take some time to say thank you and remember, remember that's what today is all about," said Krasinski.
Amen.