Folks, I'm just going to say it. Gun control activist David Hogg isn't very smart.
This is the guy who was accepted to the leftist paradise of Harvard University, despite not meeting the average scores of the bottom 25 percent of applicants, and he is now saying which guns should be illegal- despite saying on multiple occasions that he's not against the Second Amendment.
Then why is everything he does contrary to the protections of the Second Amendment?
Hogg joined MSNBC's Andrea Mitchell to essentially talk about gun control, and Hogg had no problem calling out owners of the much debated AR-15 rifle. Mitchell asked Hogg whether he thinks gun control measures can happen at the federal level or if they would have to be kicked down to a state-by-state basis. Hogg said that he and other Parkland school shooting survivors had "introduced a ballot initiative that we're working on getting right now to ban assault weapons in our state (Florida), like the one that the shooter at my high school used."
That's when Hogg began his self-righteous diatribe on the AR-15 and the people who own them:
The truth of the matter is weapons like the AR-15 have an effective range of over 1,500 meters. If you're using a weapon with an effective range of over 1,500 meters, you are not defending yourself. You are hunting a human being. I don't think any civilian needs to have their hands on a military weapon like that.
Did ya hear that? If you own an AR-15, you are apparently a hunter of human beings. There's no word on what Hogg thinks about politicians advocating for killing babies after they're born, but I digress. Different form of "hunting," I suppose.
Here's video of Hogg's comments:
Twitter was not having the "1,500 meters" stat that Hogg threw out there:
The AR-15 is the most popular rifle in the United States, by the way.

— Stephen Gutowski (@StephenGutowski) February 12, 2019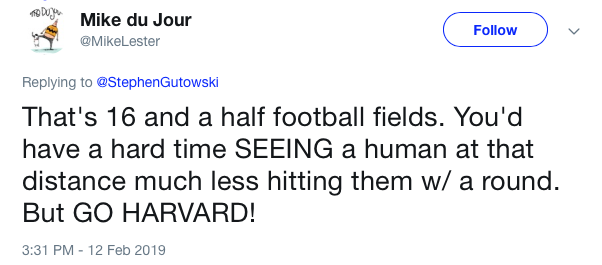 But, we should all just take Hogg's word for it.