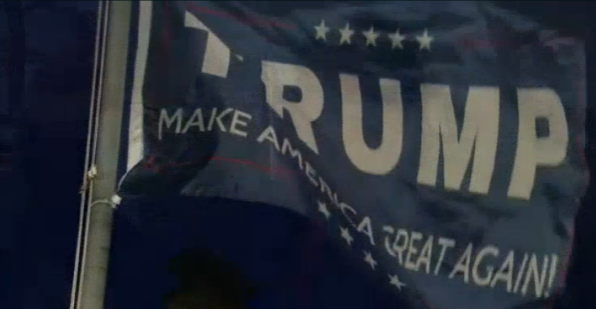 The American Civil Liberties Union of New Jersey is coming to the defense of a man who is facing 90 days in jail for flying a "TRUMP" flag outside his home.
As MRCTV previously reported, West Long Branch resident Joe Hornick received a summons for displaying a political campaign sign more than 30 days before an election.
Hornick maintains the flag is not political because there's "nothing mentioning about an election or any particular party." Hornick is merely a "fan of Donald Trump."
NJ 101.5 reports the ACLU of NJ has decided to take up the case.
ACLU-NJ Deputy Legal Director Jeanne LoCicero said, "West Long Branch needs to realize that unless it takes this policy off the books, it's violating the Constitution."
"I shouldn't be punished for exercising my constitutional right to free speech," Hornick said. "I'm not breaking the law by flying my Trump flags; rather, the borough is breaking the law by having this unconstitutional ordinance on the books."
The ACLU has allegedly been successful in fighting similar measures in other New Jersey towns.