As much as $81 million was donated to Bill and Hillary Clinton's foundation by wealthy one-percenters who hid money in Swiss bank HSBC tax-haven accounts, The Guardian has revealed.
Bill and Hillary Clinton's foundation received very large donations from seven donors, an investigation into HSBC's secret bank account files conducted by the British journal The Guardian, the French newspaper Le Monde, BBC Panorama and the D.C.-based International Consortium of Investigative Journalists shows.
Colorful British fashion magnate Richard Caring donated $1 million for Bill Clinton to where an elaborate costume of a Russian general and attend a "lavish fancy-dress party in Russia," The Daily Mail reports.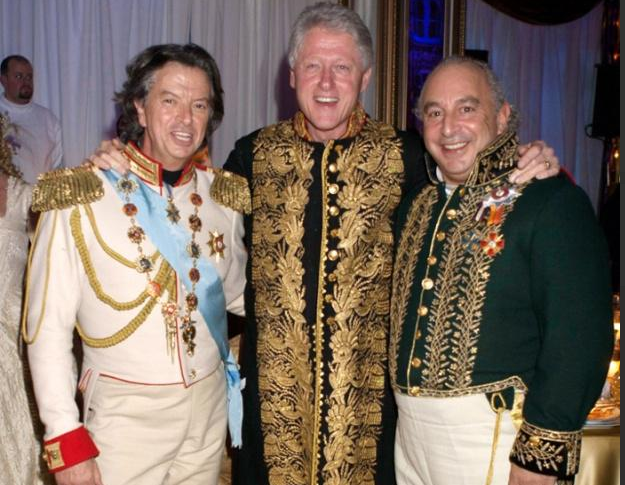 Source: Twitter
Canadian investor magnate Frank Guistra donated $50 million to the Clinton's foundation.
Convicted sex offender Jeffrey Epstein donated $25,000 to the foundation in 2006, the year after he was arrested for sexually abusing a 14-year old in Florida. Epstein also flew President Clinton in his private jet.
Other super-wealthy donors who hid money in HSBC accounts and gave $1 million or more to the Clinton foundation include Formula One racing driver Michael Schumacher, billionaire businessman Eli Broad, and French hedge-fund manager Arpad Busson.
While these wealthy donors were not violating the law by placing their money in these Swiss HSBC accounts, Schumacher admitted to a reporter that he and other wealthy foreigners would leave Switzerland if the country halted its tax policies that they use to escape taxes in their home countries.
"HSBC's Swiss banking arm helped wealthy customers dodge taxes and conceal millions of dollars of assets, doling out bundles of untraceable cash and advising clients on how to circumvent domestic tax authorities," The Guardian reports the "huge cache of leaked secret bank account files" shows.
"One of the issues that I have been preaching about around the world is collecting taxes in an equitable manner, especially from the elites in every country," Hillary Clinton said at the Clinton Global Initiative in 2012, while still Secretary of State. "[The elites]… do not contribute to the growth of their own countries. They don't invest in public schools, in public hospitals, in other kinds of development internally."
"And so it means – for leaders – telling powerful people things they don't want to hear," said Hillary Clinton. Increasingly Clinton has attempted to sound a populist tone with voters. Here's her tweet after Obama's State of the Union address:
But the revelation that wealthy tax dodgers were among her foundation's biggest contributors could prove disastrous for her presidential aspirations, which may be why she has been "lying low."