We all appreciate our men and women who have served our country. Here are some celebrities who have taken it upon themselves to thank those who have sacrificed for our country. 
1. Jay Leno gives car to a wounded soldier. 
Jay Leno took Cpl. Ethan Laberge, who was wounded in Afghanistan by a suicide bomber, for a drive in a brand new Dodge Dodge SRT Hellcat. What Cpl. Laberge did not know was that he was about to get a huge surprise from Leno. 
2. Kid Rock surprises wounded veteran Sgt. Davin Dumar with a home. 
Sgt. Dumar was wounded in Afghanistan. His wife and Dumar thought that they were going to an interview to determine if they will get a free home. However, what they do not know is that Kid Rock had a great surprise for them. 
3. Gary Sinise takes 50 servicemen and servicewomen on a three-day, all-expense-paid trip to Hollywood. 
Gary Sinise, who is a huge supporter of our military and veterans, decided to take 50 servicemen and women to Hollywood. He flew these men and women on a private charter plane. The trip included special events, such as a tour of Paramount studios and a special showing of Forrest Gump where Tom Hanks greeted the wounded veterans. 
4. Dierks Bentley helps out a struggling military family. 
Sgt. Sparks was preparing for another deployment. He was wounded in his first deployment. This couple was struggling financially. What they did not know was that Dierks Bentley was going to help them out in a huge way. 
5. NFL Jared Allen building homes for wounded Veterans. 
Jared Allen grew up in a military family. His grandfather and younger brother serve in the Marine Corps, so he understands how much our men and women sacrifice. He decided that one way to support those who have sacrificed for our country is to give those who have been wounded homes that they can live in comfortably and independently.
6. Russell Wilson surprises solider with an upgrade. 
While flying Alaskan Airlines, Russell Wilson noticed a soldier carrying his bags back to the coach section. That is when he stepped in and upgraded the soldier's ticket to first class.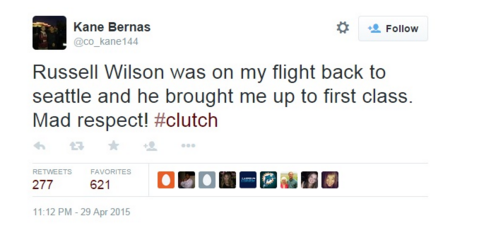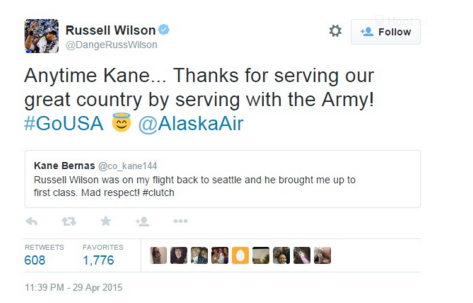 7. Donald Trump helps Sgt. Andrew Tahmooressi.
Andrew Tahmooressi served in the Marine Corps, doing two tours in Afghanistan. He was arrested trying to cross the Mexican border after making a wrong turn. After 214 days in a Mexican jail, he was released. Donald Trump stepped up after Tahmooressi drained his savings account in order to defend himself in Mexico 
It is my great honor to send $25,000 to Sgt. Andrew Tahmooressi. #marinefreed

— Donald J. Trump (@realDonaldTrump) November 10, 2014