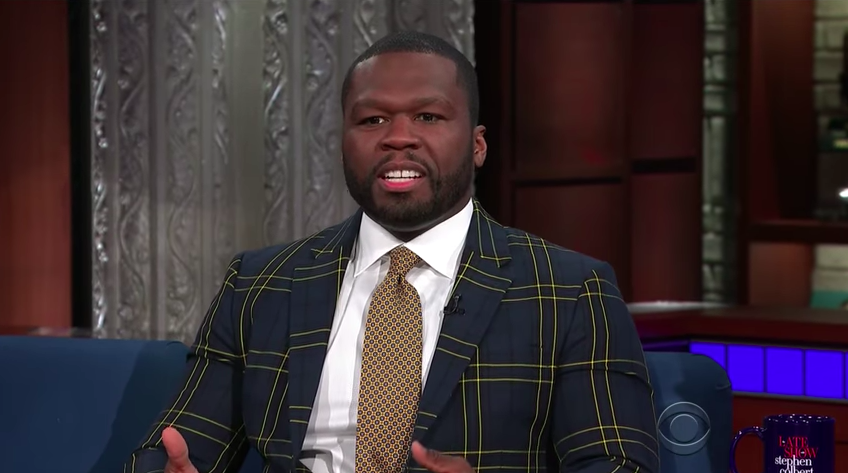 Image via Screenshot
Rapper 50 Cent believes President Trump "wanted to lose the presidency" and won by accident.
In a Thursday night appearance on "The Late Show with Stephen Colbert," Curtis "50 Cent" Jackson said that he thinks Trump was running for the presidency for the publicity – not so he could become Commander-in-Chief.  
"To be honest, I think it was like an accident," said the 42-year-old executive producer of the Starz hit series "Power."
"When something happens by accident, you're not prepared for it," he continued. "I think he was trying to get a great renegotiation for 'The Apprentice.'"
Jackson once hosted his own "Apprentice"-like show called "The Money and the Power." The show was cancelled after one season.
"He wanted to lose the presidency," he went on. "He didn't want the job!"
"Then when you win, you go, 'What the f--k? So now I gotta be the president?'" 50 Cent said, laughing. 
"That was my reaction, too," Colbert quipped.
Colbert tried to make a comparison between Jackson and Trump as "two tycoons who made good from the Queens." Jackson replied, "It's different." 
His comments follow the release of a new book, "Fire and Fury: Inside the Trump White House" by Michael Wolff, which alleges that Trump didn't actually want to win the election but ran because he thought that the platform would provide him with "a far more powerful brand and untold opportunities."  
The book also claims that members of his campaign didn't want Trump to win and didn't think he could win, which the White House said on Thursday was "complete fantasy" and "tabloid gossip."  
Jackson claimed in September that he was offered $500,000 by the Trump campaign to help win over black voters during the 2016 presidential election.  
He said that he turned down the offer, saying, "Nah, that's not good money," and, "That's not worth it."
Check out his interview on "The Late Show" below.
Thank you for supporting MRCTV! As a tax-deductible, charitable organization, we rely on the support of our readers to keep us running! Keep MRCTV going with your gift here!