A parent of a second-grader at Hunter Magnet Elementary in Raleigh, North Carolina is sounding off on the school and its PTA after her 8-year-old son came home and asked her if white people were "better" than him.
Amber Pabon told local station WTVD that the question came after her son was sent home with a paper on how to "begin to understand white privilege."
"My son comes home to me and asks me, 'Mommy, are white people better than me?'" 
Pabon said the paper – which discusses how "white dominates" culture, government, education and media on one side and lists examples of white privilege on the other – is not only an "inappropriate" overstep but also not proper for a child her son's age.  
"I think the message itself is inappropriate because yes there is racism out here, and they need to learn about it. But let the parents do that," she said. "Because like I said, if she's teaching him the way she knows, it could be completely different from the way I know. And me being part of the black community, I know different from how the white community sees it."

"He's 8 years old. What does he need to know about racism or white privilege?" Pabon added.

The paper entitled "Step 3: (Begin to) Understand the Concept of White Privilege" is part of an initiative led by the school's PTA Advocacy Team to generate "awareness and empathy to create a safe and equitable Hunter Community, as it relates to race and privilege."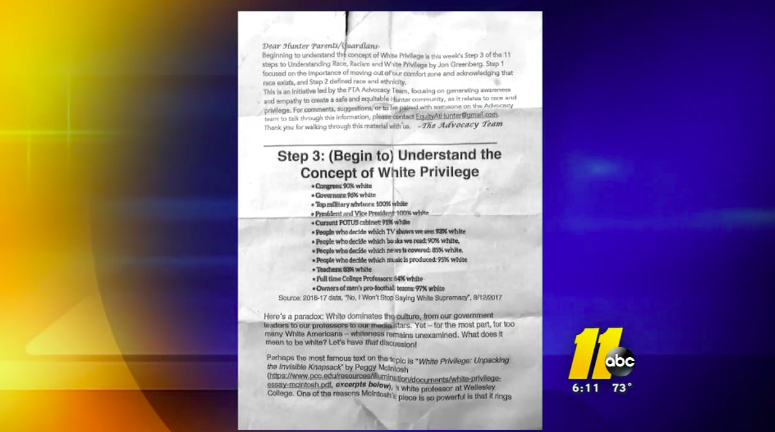 (Image via Screenshot)
Students are sent home with a new "step" every week. And yet, the steps are aimed at parents, not students, the PTA told WTVD.
Pabon said that she had no prior knowledge of the initiative.
There was no permission or consent involved on the part of the parents but parents are apparently given the option to opt out of the program which Pabon says she has since done.
The school has distanced itself from the controversy, claiming that the program is not a part of its "in-class curriculum" and was not used in the classroom.
The steps come from a 2017 article entitled "11-Step Guide to Understanding Race, Racism, and White Privilege."
The article describes itself as a guide "for fellow White Americans, who too often have the privilege to remain ignorant of the realities and toll of racism."
The string of statistics in the article were taken from another 2017 article entitled, "No, I Won't Stop Saying 'White Supremacy.'"
The statistics read as follows: 
Congress: 90% white

Governors: 96% white

Top military advisers: 100% white

President and vice president: 100% white

Current POTUS cabinet: 91% white

People who decide which TV shows we see: 93% white

People who decide which books we read: 90% white

People who decide which news is covered: 85% white

People who decide which music is produced: 95% white

Teachers: 83% white

Full-time college professors: 84% white

Owners of men's pro-football teams: 97% white
Examples of white privilege on the back of the sheet include, "I can go shopping alone and ... I will not be followed or harassed."