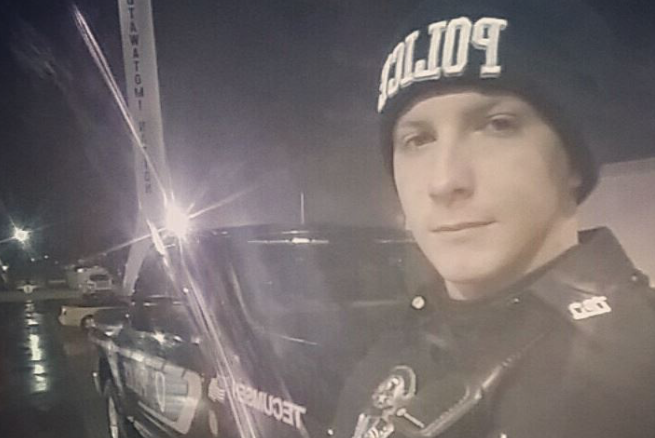 (Image: Screenshot/Facebook)
Do you hear that? Silence.
There has, yet again, been no national outcry for a police officer killed in the line of duty.
A 22-year-old Tecumseh, Okla., police officer passed away Monday morning after being involved in an altercation with a suspect at a traffic stop overnight.
Officer Justin Terney of the Tecumseh Police Department was shot three times after attempting to pull over a suspect.
According to KFOR-Oklahoma City:
"Police say around 11:30 p.m. on Sunday night, Officer Terney attempted to pull over a vehicle near Benson Park and Gordon Cooper.

"The passenger of the vehicle jumped out of the car and ran from Terney, who pursued him on foot.

"Terney was able to tase the suspect, but police say the suspect was unaffected by the taser.

"At that point, officers say the suspect allegedly shot Officer Terney three times. Terney returned fire, striking the suspect approximately four times.

"The officer and the suspect were both transported to a local hospital, where Officer Terney underwent surgery and was listed in critical condition."
Terney passed away after his wounds and injuries proved too much to overcome.
He had just finished his first year as an officer.
This was a devastating blow to the Tecumseh Police Department.
"My department is not doing good," said Assistant Chief J.R. Kidney. "I've been here about 22 years, and this is our first officer-involved shooting. We haven't had to live through this yet."
No one should have to, sir.
The suspect is still in the Intensive Care Unit (ICU) at a local hospital. No details have been released about the suspect's identity.
While the usual suspects, who never hesitate to blame guns or make a race issue out of everything, will no doubt hesitate to cover this story, Okla. Republican Sen. James Lankford did release a statement about the passing of Terney:
"I'm deeply saddened to hear the news of Tecumseh Police Officer Justin Terney who passed away this morning," the statement reads. "We owe a debt of gratitude to all those who put on the uniform every day and risk their lives to ensure the safety of our communities, and Officer Terney gave the ultimate sacrifice."
"I pray that God will provide comfort and peace to Officer Terney's family as they grieve his loss, and know that all of Oklahoma is grieving with them," he writes.
Thoughts and prayers go out to the family of Officer Terney, a young man taken far too soon. 
Thank you for supporting MRCTV! As a tax-deductible, charitable organization, we rely on the support of our readers to keep us running! Keep MRCTV going with your gift here!