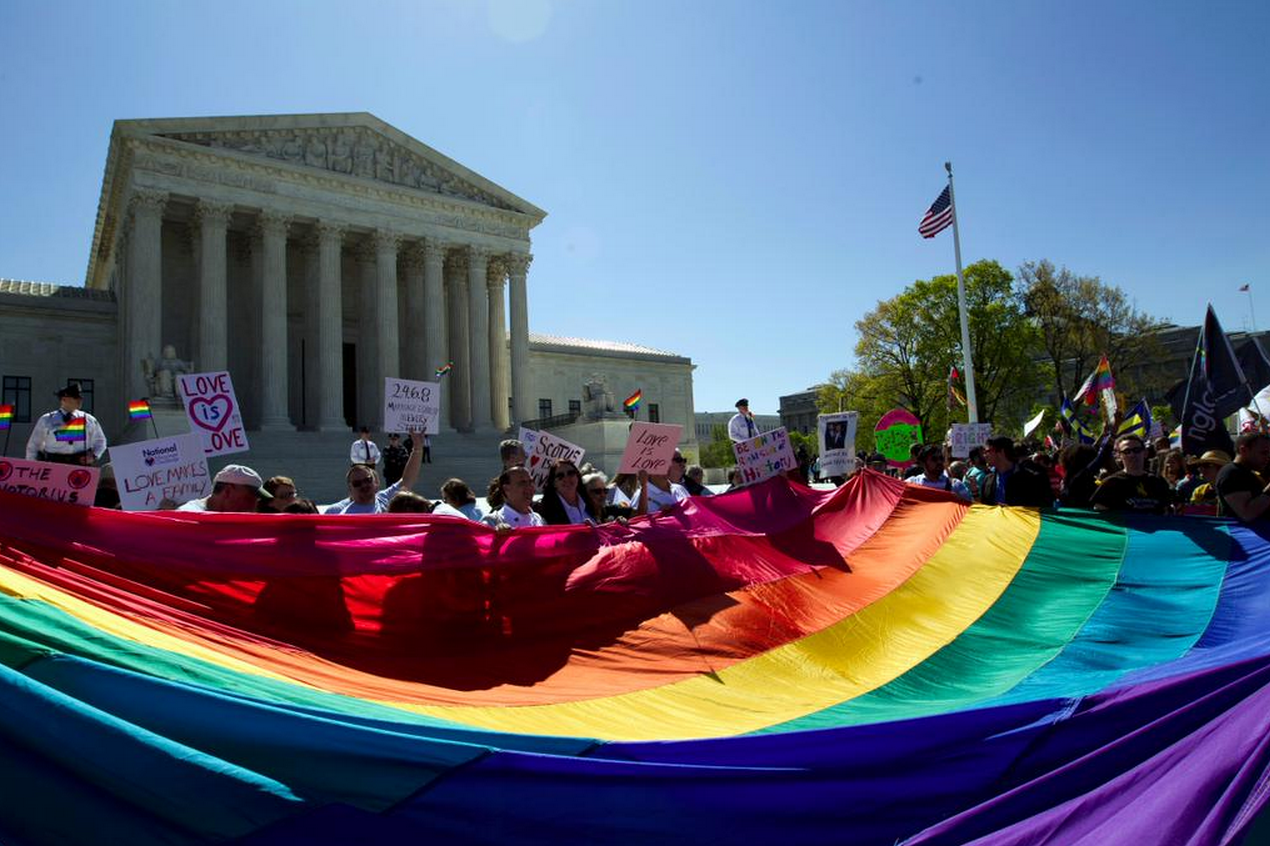 Many 2016 presidential candidates took to Twitter to share their reactions to the Obergefell v. Hodges Supreme Court decision on Friday, which ruled 5-4 that states cannot prohibit the marriage of same-sex couples.
In contrast with declared Democrats Hillary Clinton, former Maryland governor Martin O'Malley, and Vermont senator Bernie Sanders who praised the ruling as one that was a long time coming, Republican presidential hopefuls such as Pennsylvania senator Rick Santorum and former business executive Carly Fiorina voiced their dissent.
GOP candidates generally took either one or both of the following positions:
1. The Supreme Court had no business deciding a matter of state and;
2. The five justices who ruled in favor of gay marriage had no right to redefine the traditional definition of marriage for those who, by their deeply held religious convictions, view marriage as a God-given covenant between one man and one woman. 
Former Arkansas governor Mike Huckabee spoke on the latter.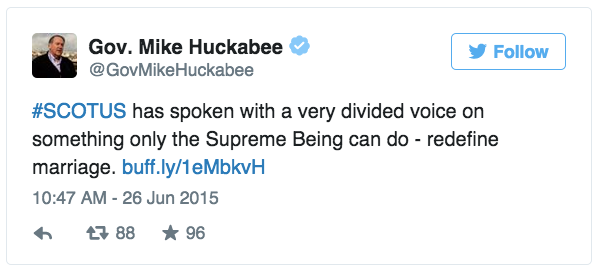 Businessman and TV personality Donald Trump threw his fellow candidate Jeb Bush under the bus for former president George W. Bush's decision to appoint one of the majority opinion justices.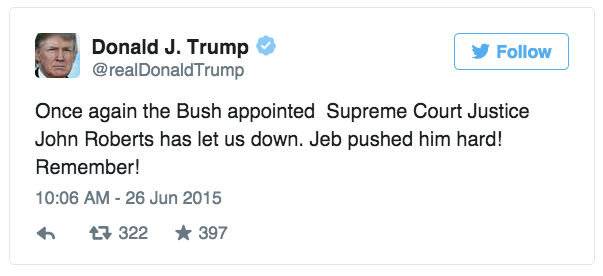 Former Hewlett-Packard CEO Carly Fiorina held that the decision was an example of judicial activism as its worst.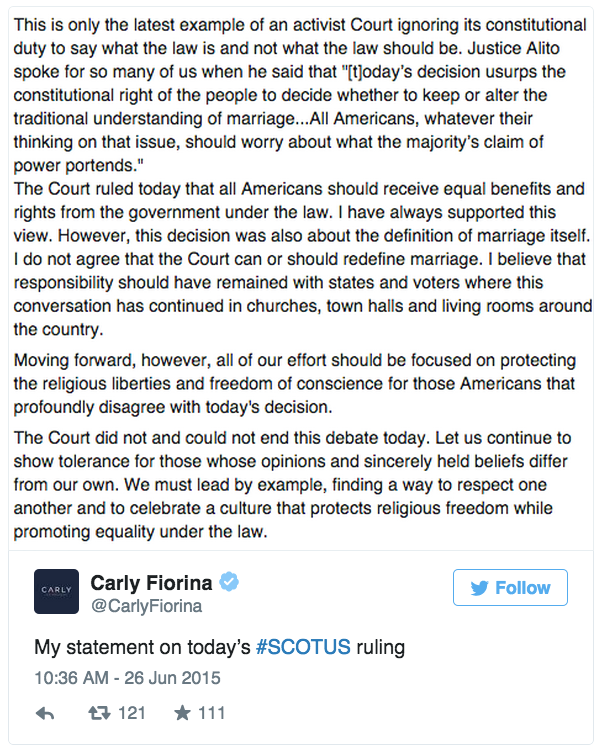 Governor of Louisiana Bobby Jindal stood by his religious beliefs that marriage is between a man and a woman.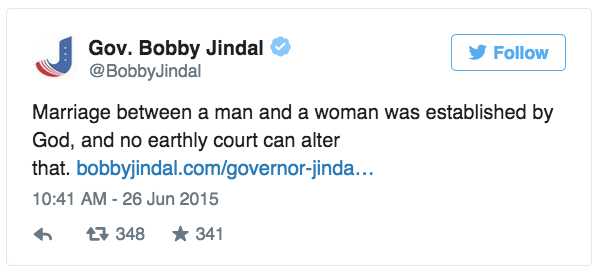 Former Pennsylvania senator Rick Santorum argued that the decision should have been in the hands of the American people, not a bench of unelected judges.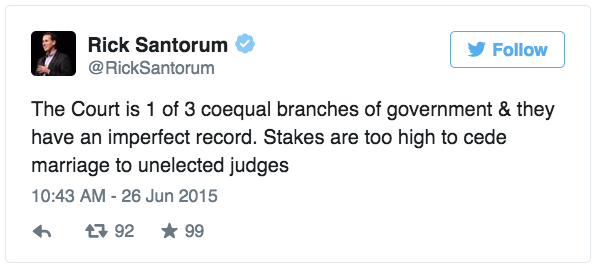 Former Texas governor Rick Perry responded to the ruling with respect to both his religious beliefs and the Constitution.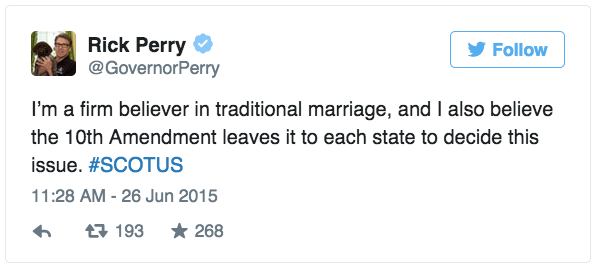 Florida senator Marco Rubio said that, while he believes in the traditional definition of marriage, the law is the law.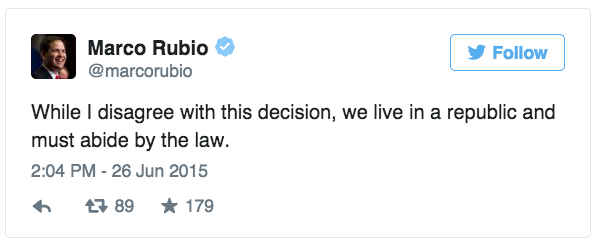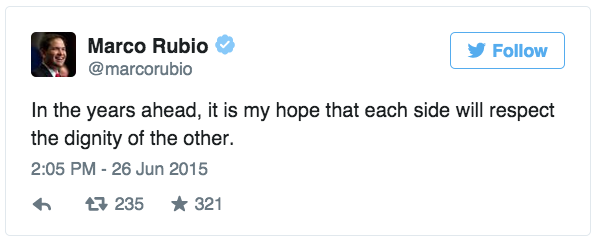 Similarly, former Florida governor Jeb Bush held that, while he disagrees with the Court's decision, he hopes that members on both sides of the aisle respect one another, especially when it comes to religious freedom.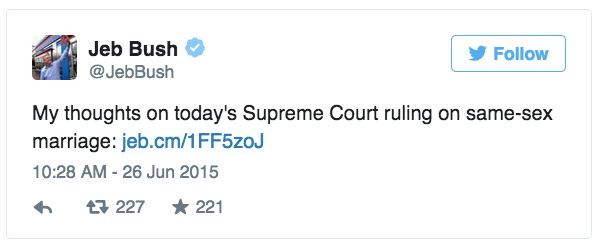 "Guided by my faith, I believe in traditional marriage," Bush wrote in a press release. "I believe the Supreme Court should have allowed the states to make this decision. I also believe that we should love our neighbor and respect others, including those making lifetime commitments. In a country as diverse as ours, good people who have opposing views should be able to live side by side. It is now crucial that as a country we protect religious freedom and the right of conscience and also not discriminate."
Candidates Sen. Ted Cruz (R-Tex.), Sen. Rand Paul (R-Ky.), Sen. Lindsey Graham (R-S.C.), and Dr. Ben Carson have yet to respond to the decision via their social media pages. We'll update this post with their reactions as they come. 
Following the Court's announcement, former Secretary of State and First Lady Hillary Clinton changed her Twitter default picture to a rainbow version of her campaign logo.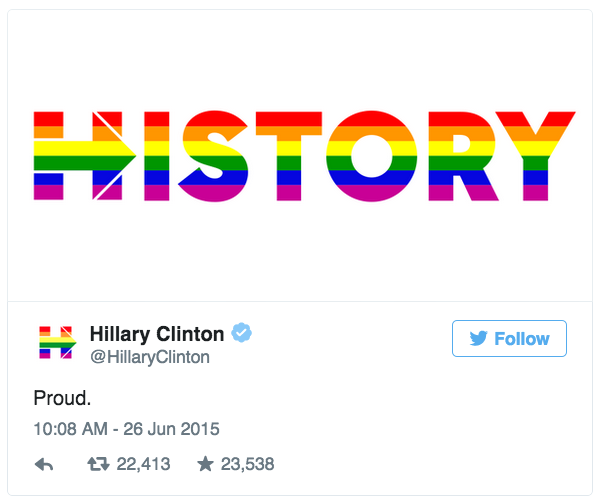 She wrote that she was "proud to celebrate a historic victory for marriage equality." 
Similarly, former Maryland govenor and mayor Martin O'Malley altered his Twitter avatar: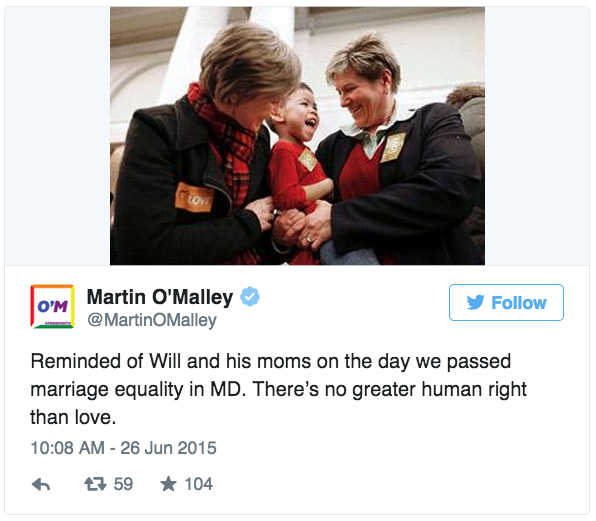 Vermont senator Bernie Sanders posted on Twitter that he is "glad the Court has finally caught up" with the times.