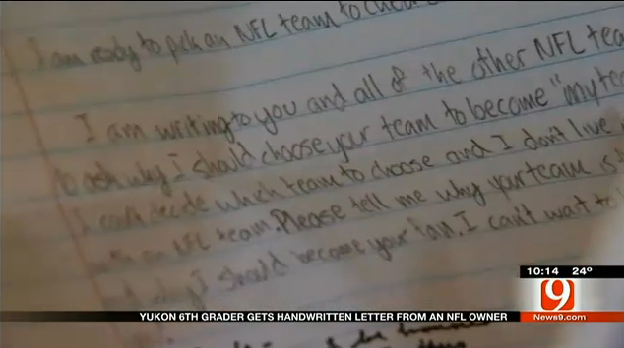 We often pick the sports teams we root for based on our hometowns, or who our closest friends and family like.
A 12-year-old boy by the name of Cade Pope took his selection process one step further.
The sixth-grader from Yukon, Oklahoma handwrote a letter to every owner of every team in the NFL, asking who he should support and why.
Of the 32 teams, only one responded.
Carolina Panthers owner and founder Jerry Richardson sent Pope a handwritten letter with the message,
"Cade, we would be honored if our Carolina Panthers became your team. We would make you proud by the classy way we would represent you."
"Richardson also listed several players he wanted Cade to watch out for," reported a local news station.
Sent in a package, the letter came with a replica Panthers helmet signed by Pro Bowl linebacker (and Boston College alum!) Luke Kuechly.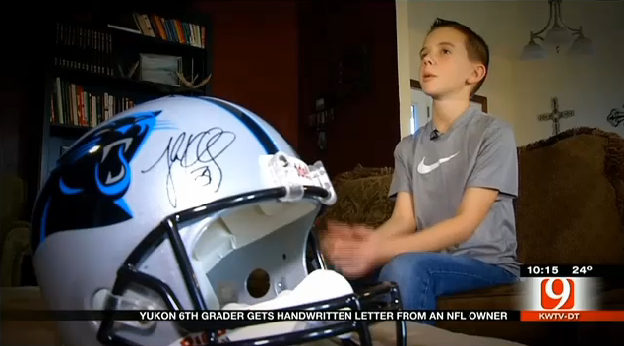 As a Boston College graduate myself, I couldn't help but love this story, aside from the fact that the Panthers sure did demonstrate class in responding to this young boy's request.
While the Panthers are out for the season, having lost to the Seattle Seahawks Saturday night in the playofffs, they put up a good fight and now have a new, dedicated fan on their roster.
Watch Cade open the letter below.