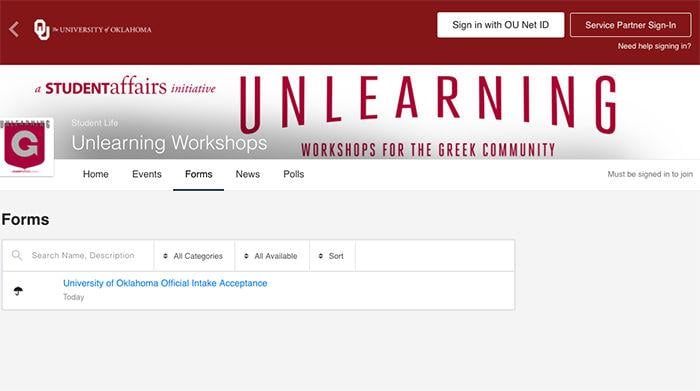 The University of Oklahoma is encouraging members of the Greek community to take part in a workshop to "unlearn" their ableism, racism, sexism, and classism.
The OU Daily reports the "Unlearning: Workshops for the Greek Community" program started in the spring 2016 semester and was created in partnership by the OU Student Affairs office, the OU Women's and Gender Studies Program, and the Center for Social Justice. Unlike the mandatory Freshmen Diversity Experience program, the "Unlearning" workshops are voluntary. Students who complete all four sessions of the "Unlearning" workshop and also take part of the "LGBTQ Ally training" provided by the university are qualified to become specially certified Diversity Allies.
Public relations and marketing coordinator for OU career services Kylie Frisby said that while the program is open for all students, it is catered for students involved in Greek life, who are predominately white.
She told OU Daily, "It came out of just discussions with greek students saying, 'We feel like these are things in our community, within the whole OU community, and we want to know how to combat them and how to deal with those things."
Speaking of the program, Frisby said, "I think it gives you a really great insight, and you start to notice things around campus and in your community that you're like, 'that's actually not OK, I can't believe I didn't notice that before.'"
In a letter "clarifying misconceptions" about the program, assistant dean of student affairs Brynn Daves wrote the program is "neither a mandatory education program nor a preconceived judgment of the greek community."
The idea of "unlearning," however, is premised on the idea that people have been taught one particular way -- to be racist, sexist, ableist, or "classist" -- their entire lives.
"It is critical to have continued dialogue regarding these issues within our university community and beyond," Daves added. "We are eager to offer another semester of the workshops as a resource to strengthen our university community. All OU students are welcome."
In a response to news about the program, OU Daily arts and entertainment reporter Devin Hiett said the program "unfairly singles out greek students."
"It's not difficult to understand why greek organizations were a target for this type of program," Hiett states. "Social issues like the ones discussed in these classes are, to some extent, inherent byproducts of homogenous institutions — on a national scale ,77 percent of sorority members and 73 percent of fraternity members are white, and most come from high-income families. The lack of racial and economic diversity in panhellenic organizations can pave the road for prejudices."
"However, the way this program was presented, whether intentionally or not, portrays greek students as intrinsically racist. This automatically puts the community on the defense and results in the program's entire point being ignored and overshadowed by the anger of students who feel targeted by what they perceive as a false accusation against them. If OU truly wants students to rid themselves of biases and take the time to attend these courses, OU should have marketed the sessions in a way that doesn't make greek students feel singled out as the sole perpetrator of these issues," Hiett continued.
Thank you for supporting MRCTV! As a tax-deductible, charitable organization, we rely on the support of our readers to keep us running! Keep MRCTV going with your gift here!