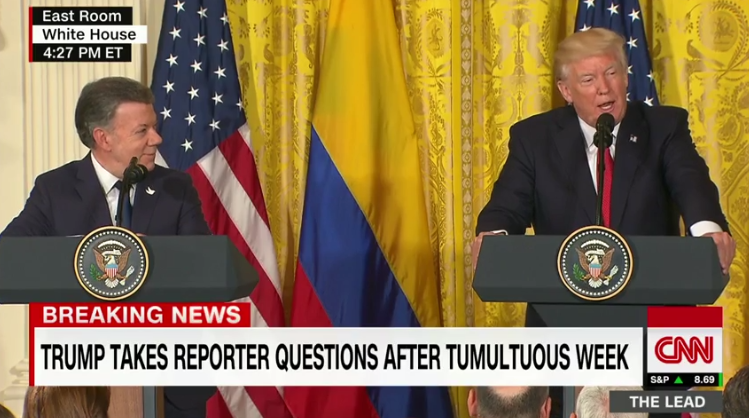 (Image via Screenshot)
During his visit to the White House on Thursday, Colombian president Juan Santos was asked by reporters whether he believes that building a wall as President Trump plans to do is an effective strategy in the war on drugs.
He avoided outright disagreeing with Trump's plan to build a wall along the U.S.-Mexico border, but said that he believes "the best way is to collaborate" with other nations.
Santos called it "a world problem," not just a problem of the United States.
After the Colombian president finished his response, Trump offered his take in blunt fashion.
"That was a long and very diplomatic answer," he said. "I will say it a little bit shorter:
"Walls work. Just ask Israel."
"They work, believe me," Trump went on. "They work. And we have no choice."
Santos stood there with a forced smile, no doubt feeling disrespected.
Check out the cringe-worthy moment in the video below.
Thank you for supporting MRCTV! As a tax-deductible, charitable organization, we rely on the support of our readers to keep us running! Keep MRCTV going with your gift here!