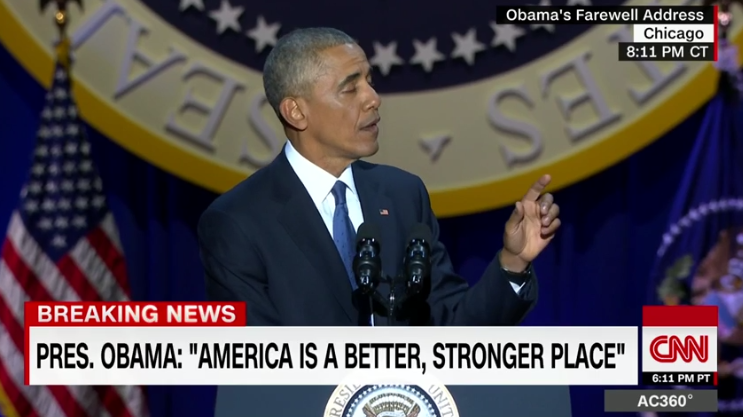 (Image via Screenshot)
President Obama, during his farewell address in Chicago, Ill., on Tuesday took not-so subtle jabs at President-elect Donald Trump while trying to maintain the notion that he's working to ensure a smooth, peaceful transition of power.
He began with the jabs by saying that America is more divisive than ever. Obama attempted to reconcile those still upset from the election that, "For every two steps forward, it often feels we take a step back."
"Yes, our progress has been uneven," said the President. "The work of democracy has always been hard. It's always been contentious. Sometimes it's been bloody. For every two steps forward, it often feels we take one step back."
"But the long sweep of America has been defined by forward motion – a constant widening of our founding creed to embrace all and not just some."
He later praised immigrants as valuable assets to the nation, no doubt a response to Trump's tough stance on illegal immigration.
Nonetheless, Obama insisted that he's working to "ensure the smoothest possible transition" for Mr. Trump, "just as President Bush did for me."
"Because it's up to all of us to make sure our government can help us meet the many challenges we still face," he said.
Thank you for supporting MRCTV! As a tax-deductible, charitable organization, we rely on the support of our readers to keep us running! Keep MRCTV going with your gift here!