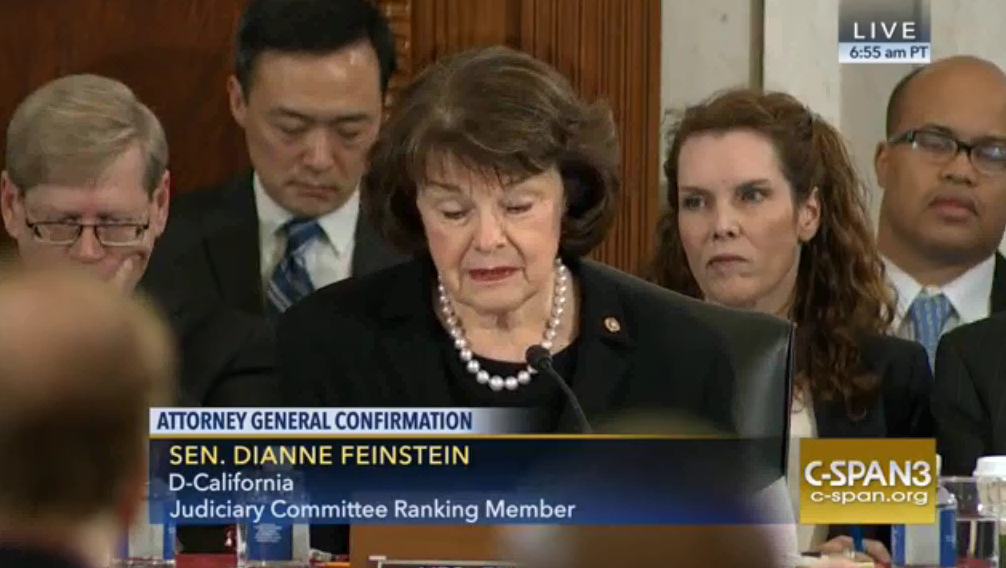 While giving her statement to the Senate Judiciary Committee hearing on the nomination of Sen. Jeff Sessions (R-Ala.) for attorney general, Sen. Dianne Feinstein (D-Calif.) stated Congress should take people's fears over President-elect Donald Trump's presidency into consideration when confirming Trump's nominees.
During her statement, Feinstein said, "What we must do now in these hearings is determine what kind of attorney general Sen. Sessions will be if confirmed. And let me express a deep concern. There is so much fear in this country. I see it. I hear it, particularly in the African American community, from preachers, from politicians, from everyday Americans."
"As Mrs. Evelyn Turner of the Marion Three said in her passionate letter to this committee, and I quote, 'I am very troubled by his stance on civil rights in the more recent past. As a U.S. Senator, he supported no laws or causes which suggest that he has changed.' Throughout his senate career, Senator Sessions have advocated an extremely conservative agenda."
Feinstein then highlighted Sessions' views on immigration, waterboarding, and hate crime legislation.
At the end of her statement, Feinstein repeated her point that fear should be involved in whether Sessions should be confirmed.
"Mr. Chairman, I'd like to conclude with one final point. We cannot ignore that there are deep concerns and anxieties throughout America. There is a deep fear about what a Trump administration will bring in many places and this is the context in which we must consider Senator Session's record and nomination to become the chief law enforcement officer of America," she stated.
She continued:
Communities across this country are concerned about whether they will be able to rely on the Department of Justice to protect their rights and freedoms. These freedoms are so cherished. They are what make us unique among nations. There have been sit-ins, protests, and writings and the community has received letters of opposition from 400 different civil rights organizations, 1,400 law professors, a thousand law students, a broad task force of organizations that oppose domestic violence, 70 reproductive health organizations, and many, many others.

All these letters express deep anxiety about the direction of this country and whether this nominee will enforce the law fairly, evenly, without personal bias. So I hope today's questions are probing and the answers are fulsome. Ladies and gentlemen, this is the only way we have to know whether this man can dispatch himself from the president and from his record and vote in full according to the laws of the United States of America.
Immediately following Feinstein's remarks, Sen. Chuck Grassley (R-Ia.) noted former Secretary of State Condoleezza Rice, a black woman, enthusiastically supports Sessions' nomination.
Thank you for supporting MRCTV! As a tax-deductible, charitable organization, we rely on the support of our readers to keep us running! Keep MRCTV going with your gift here!