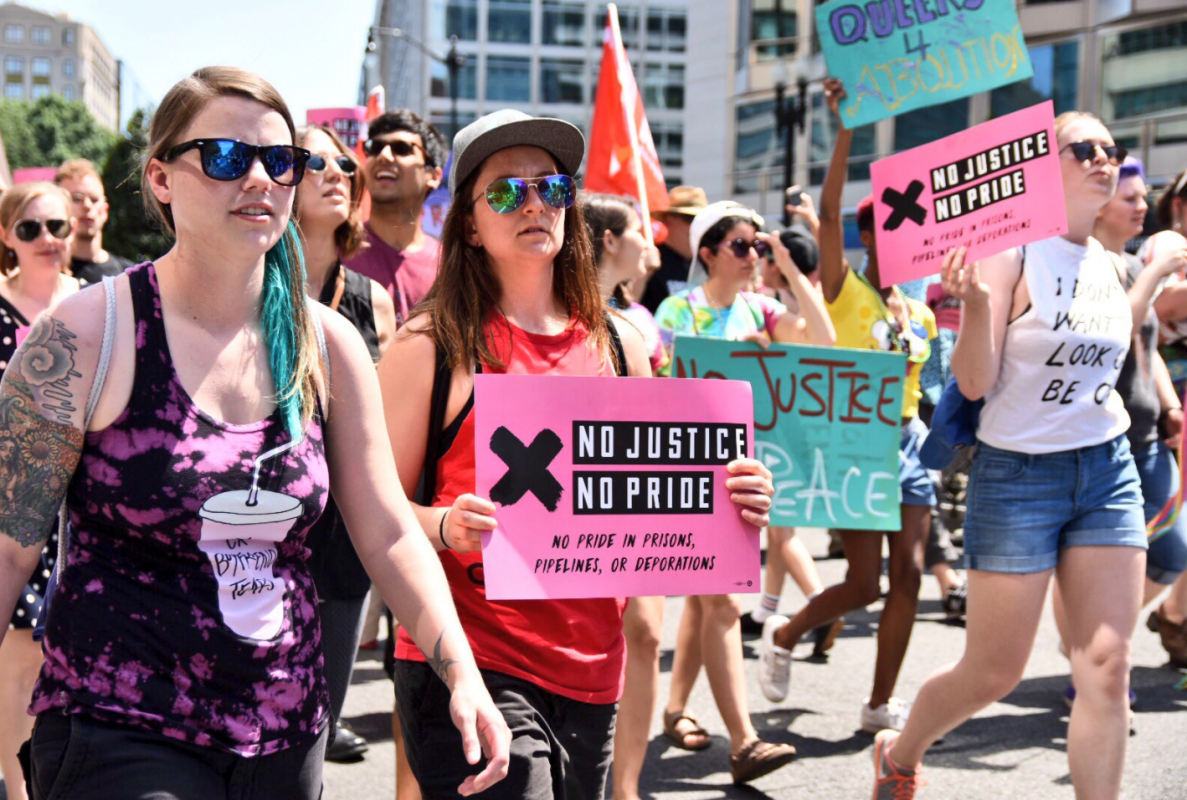 (Image source: Twitter)
The annual gay pride parade in Washington, D.C. was temporarily blockaded by activists who were upset over the presence of police, banks, and military contractors at the parade.
According to a Facebook event, the group "No Justice No Pride" protested the Capital Pride parade, which drew thousands, because they believe the event should be "free from corporations, the police, Banks like Wells Fargo, and from military contractors like Lockheed Martin and Northrop Grumman--who oppress our communities locally, across the country, and globally."
During the parade, protesters shouted, "Hey-hey, ho-ho! These racist cops have got to go!" 
Other protesters allegedly chanted, "Bullshit, get off it, queer lives are not for profit!"
Songs included, "Not one more deportation!" and "Black Lives they matter here!"
The Black Lives Matter activists also targeted Wells Fargo, which they claim is responsible for Native American genocide:
Despite the event being hijacked by protesters, participants were supportive of hearing the Black Lives Matter message:
A flier obtained by Zack Ford shows demands made by No Justice No Pride: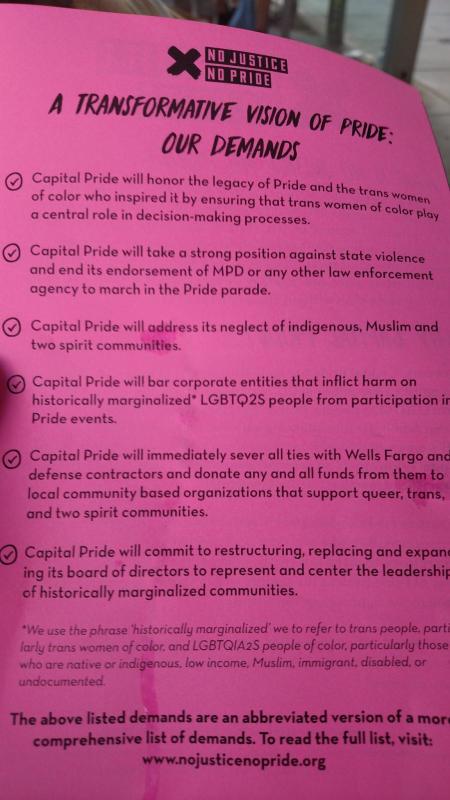 (Image source: Facebook)
No Justice No Pride also issued a separate set of demands on their website.
The parade was eventually routed around the protesters. In a statement to the Huffington Post, the Capital Pride Alliance said:
Capital Pride always has and will continue to respect the wide range of diversity – of people and viewpoints – within the LGBTQ+ community. Following the disruption of the parade by protesters, we were able to divert the parade from its scheduled route, thus ensuring that as many people as possible could watch the parade in its entirety. We are troubled by reports that some onlookers responded to the protesters with verbal and physical harassment. We encourage a robust, civil, and healthy conversation within the community about all of the issues that impact us and look forward to having a mutually respectful conversation in the days, weeks, and months ahead. The issues raised are of importance to our entire community, across organizations and to our entire movement. In these challenging times for LGBTQ+ people Capital Pride will continue to focus on how we can all move forward as a community striving for equal treatment and respect for all.
Thank you for supporting MRCTV! As a tax-deductible, charitable organization, we rely on the support of our readers to keep us running! Keep MRCTV going with your gift here!