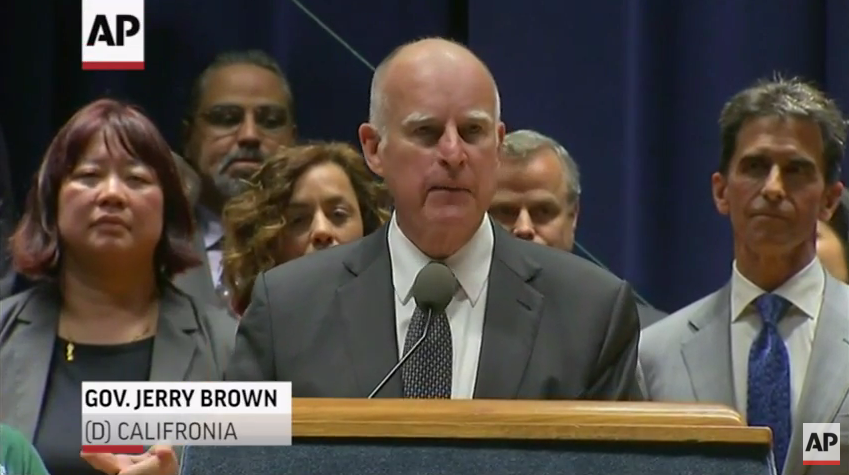 (Image via Screenshot)
California enacted legislation to implement the nation's highest statewide minimum wage on Monday.
Under the legislation, the minimum wage will gradually increase the beginning of each year, first rising to $10.50 per hour in January 2017 until reaching $15 per hour in 2022.
The law provides small businesses—or those with 25 employees or less—additional time to phase in the annual increases. It also allows the governor discretion to pause wage increases for one year in the case of a budget deficit or poor economic conditions.
Once the minimum wage reaches $15 per hour for all businesses across the state, wages could then be increased up to 3.5 percent each year to compensate for inflation, according to a press release from the office of Gov. Jerry Brown (D-Calif.).
Brown signed the bill into law in Los Angeles on Monday, praising the measure as a moral victory.
"Work is not just an economic equation, but work is part of living in a moral community and a worker is worthy of his or her hire," said Brown. "And to be worthy means they can support a family."
"So, economically, minimum wages may not make sense, but morally and socially and politically, they make every sense, because it binds the community together and makes sure parents can take care of their kids in a much more satisfactory way."
He went on to call the wage hike legislation a form of "economic justice."
"It's about people. It's about creating a little, tiny balance in a system that every day becomes more unbalanced," said Brown.
"There's a lot of anger going on in the presidential campaign," he continued, "and it may have many sources, but one of the sources is certainly the way the average American is being treated in this economy."
Listen to the rest of Gov. Brown's remarks in the video clip below.